Virtual Tours – Max Leveraging of Real Estate Website Internet Marketing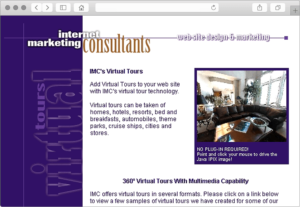 Real Estate virtual tours, slide show or video tours of your listed homes for sale, is fast growing to be the way to maximize the leveraging of your real estate website Internet marketing. Real estate websites quickly adopted the static photo presentation of listings that traditional advertising copy used. However, given the capability of the Internet to just as easily deliver audio and video files, the nature of real estate Internet marketing is quickly evolving.
In 1997, when professional real estate websites were still in the start-up phase, very few Realtors used video tours on their websites. Only 2% of home buyers bought a house as a result of seeing a video home tour. Ten years later, the Internet is a hotly contested marketplace with realty firms, brokers, and agents putting up their real estate websites.
In the competitive real estate website market, websites range from business card websites unseen on Google to custom web designs formulated for top placement in the search engine rankings. Driven by the market forces, video home tour use has expanded and attracts almost 40% more views than listings with only photos. This extra traffic translates into enticing one out of four home buyers into buying the listed home.
More relevant to real estate agents, is the fact that 9 out of 10 people using the Internet to scout out their next home find video home tours useful in assessing a home and narrowing their searches.
Besides the benefit of leveraging the power of the Internet for real estate agents in appealing to home buyers, virtual tours help land clients selling their homes. In the current economy, any marketing advantage to speed up a home's sale is desired by home sellers. Over 90% of home sellers wanting the maximum exposure of adding property photos to a listing. Real estate agents stand the best chance of selling a client's home at the best price since Internet homebuyers are willing to spend more than traditional buyers and have been found to spend more on homes whose photos or virtual tours where professionally photographed.
Leverage your real estate Internet marketing to the max by adding virtual tours of homes and property. Between the price of technology decreasing and the use of virtual tours increasing visibility and home values, real estate agents can find that using virtual tours improves their return on their Internet marketing investment. IMCD Web Design works with our real estate web design clients to create virtual tours or add their virtual tours to their listings of homes for sale. Each IMC website receives custom graphic design work to give our clients the best opportunity to capture a greater share of their online real estate market.
Click on the button below and let us know you would like to receive the FREE SEO Limited Offer on a NEW IMCD Website.
IMCD of Colorado, Inc., established in 1996 is a professional web design company providing affordable business & real estate web design and development services for real estate agent websites and business websites. IMCD Websites are built utilizing the latest Mobile Responsive Web Design technology while also being SEO friendly.
IMCD of Colorado, Inc.
Address: 4833 Front Street, Unit B-306
Castle Rock, Colorado 80104
Local Phone: 303-688-1331
Toll Free: 877-999-4623
Fax: 303-688-8842