The "Halo Effect" Accents Your Website Home Page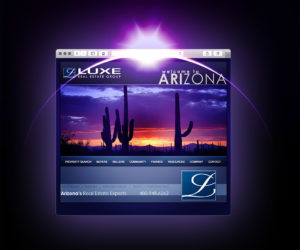 The "Halo Effect" Accents Your Website Home Page: According to researchers at Carleton University in Ontario, Canada, first impressions of web pages are formed in as little as 50 milliseconds (1/20th of a second); web surfers make instantaneous judgments about a site's visual appeal.
But, more importantly, this positive or negative gut reaction carries throughout the duration of the person's experience on that site. This carry over of first impressions is sometimes called the "halo effect," or cognitive "confirmation bias," where users search for confirming evidence and ignore evidence contrary to their initial impression. The desire of the ego to be right makes it look for evidence that will validate the initial hypothesis (first impression).
What great information for you when designing your Colorado Realtor web site or a real estate web site designed for Georgia, Florida, Texas or California! Listen to your realtor web designer for advise and be prepared to surrender your pre-conceived ideas about that front page. Many a designer has confessed to creating unattractive home pages against their better judgment because that's what their clients insisted upon!
Yes, now that the World Wide Web is accessed by millions of people daily, results of physiological and psychological studies are trickling in. According to research published by Dr. Gitte Lindgaard in Behaviour and Information Technology, "My colleagues believed it would be impossible to really see anything in less than 500 milliseconds." So, he and his research team wanted to test how people formed first impressions. They tested users by flashing web pages for 500 milliseconds and 50 milliseconds onto the screen and had participants rate them on various scales such as interesting to boring, good design to bad design, good color to bad color, good layout to bad layout, and imaginative to unimaginative. The results at both time intervals were consistent between participants, although the longer display produced more consistent results.
They marveled at the judgments formed by the subjects. They learned that "halo effect" of that emotional first impression carries over to cognitive judgments of a web site's other characteristics, including usability and credibility. The speed of these judgments precludes cognitive thought! This pre-cognitive "affective reaction" is a physiological response to what people see on the screen.
Lindgaard commented, "The strong impact of the visual appeal of the site seemed to draw attention away from usability problems. This suggests that aesthetics, or visual appeal, factors may be detected first and that these could influence how users judge subsequent experience…hence, even if a website is highly usable and provides very useful information presented in a logical arrangement, this may fail to impress a user whose first impression of the site was negative."
In a precursor to the Carleton study, in 2003 B.J. Fogg of the Persuasive Technology Lab at Stanford University found that a "clean, professional look" was cited by 46.1% of participants when evaluating sites for web credibility. Information Design/Structure was cited 28.5% of the time, while Information Focus was cited 25.1% of the time. While the factors varied for different types of sites, disguised advertising and popup ads, stale content, broken or non-credible links, difficult navigation, typographical errors, popup ads, and slow or unavailable sites were found to harm credibility the most.
Since studies show that reliable decisions about your site can be made in as little as 1/20th of a second and that this emotional judgment can color subsequent judgments made later, even though your site may have superior products, services, or usability, an initial negative halo can steer customers to your competition. Take the opportunity to create a clean, professional and fast-loading site and reap the positive halo effect.
Click on the button below and let us know you would like to receive the FREE SEO Limited Offer on a NEW IMCD Website.
IMCD of Colorado, Inc., established in 1996 is a professional web design company providing affordable business & real estate web design and development services for real estate agent websites and business websites. IMCD Websites are built utilizing the latest Mobile Responsive Web Design technology while also being SEO friendly.
IMCD of Colorado, Inc.
Address: 4833 Front Street, Unit B-306
Castle Rock, Colorado 80104
Local Phone: 303-688-1331
Toll Free: 877-999-4623
Fax: 303-688-8842