The Green House Payoff – Mortgages for Energy Efficient Homes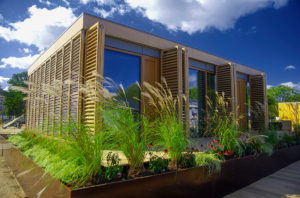 A home buyer's mortgage can benefit from buying real estate with plans to improve the its energy efficiency. Traditional frame homes built prior to the 1970s were not built with energy efficiency of today's houses. Houses built in the days of low heating costs may have little to no wall and ceiling insulation and heat transferring wooden exterior doors. This leaves a large market of houses that can qualify for a Energy Efficient Mortgage (EEM).
The Federal Housing Administration (FHA), a federal agency which insures private loans, backs EEMs that allow mortgage lenders to add 100 percent of the additional cost-effective energy efficiency improvement costs to an approved home mortgage loan. The FHA limits are a cap of $4000 on homes under $80,000 or 5 percent on homes over $80,000 with a cap of $8000.
Fannie Mae also offers an EEM. Fannie Mae, a federal government chartered company, works "to reduce mortgage interest rates for consumers, expand homeownership and affordable rental housing, and improve the liquidity of the mortgage market for investors and consumers." Fannie Mae has a loan that offers to finance not just home ownership, but also the energy efficient improvements home buyers want to make. Fannie Mae's HomeStyle Renovation Mortgage is a cost-effective way to combine a client's home purchase or refinance with the home renovation costs in one loan with only one closing.
Real estate agents selling homes in housing markets such as Colorado Springs, Colorado, San Diego, or Pensacola Florida with a large military presence should be aware of the Veteran Administration's (VA) EEM. The VA mortgage is available to qualified active and retired military personnel, reservists and veterans for energy efficiency home improvements when buying their home. The VA caps the energy improvements between $3,000 and $6,000.
The key to getting the EEM loan is getting the house energy audited. Most certifying companies are certified in the Mortgage Industry National Home Energy Rating Standards that sets the national procedures for home energy ratings. Make sure they are also a professional accepted by the secondary mortgage company, such as Fannie Mae, that the mortgage company is using.
The audit creates a report with a list of home improvements necessary to bring your house to the level of energy efficiency necessary. Usual recommendations are improved insulation, tighter and better insulated windows, and better sealing on ductwork and weather stripping. If the hot water or air conditioning system is aged, it may also be on the list of items to be replaced.
Awareness of EEMs helps the real estate professional creatively approach "fixer upper" homes and may help the first time home buyer afford a house more in the size they need. The EPA and Residential Energy Services Network (RESNET) have websites with information on the certification standards and energy efficient home repairs for researching articles to provide information on your real estate website.
Click on the button below and let us know you would like to receive the FREE SEO Limited Offer on a NEW IMCD Website.
IMCD of Colorado, Inc., established in 1996 is a professional web design company providing affordable business & real estate web design and development services for real estate agent websites and business websites. IMCD Websites are built utilizing the latest Mobile Responsive Web Design technology while also being SEO friendly.
IMCD of Colorado, Inc.
Address: 4833 Front Street, Unit B-306
Castle Rock, Colorado 80104
Local Phone: 303-688-1331
Toll Free: 877-999-4623
Fax: 303-688-8842