On the Real Estate Horizon – The Environmentally Friendly Home Market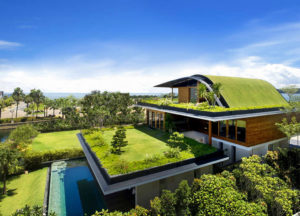 The age of environmentally friendly homes is the growing real estate market on the horizon. Arizona, California, Oregon and Washington are a decade into the green trend of minimizing or eliminating a house's negative ecological footprint. Driving the trend is not just a desire to clean up the planet; home heating costs consume over 30% of America's energy! With California dealing with summer energy shortfalls due to increased air conditioning loads, housing construction techniques in the California real estate market have more than just a "save the trees" feeling driving the market. When the Pentagon spends $1.5 billion to environmental and energy efficiency renovation, you know a trend is well into its maturing phase.
In an effort to further prod the energy efficient house market, Congress passed the 2005 Energy Policy Act. providing for a tax credit for building energy efficient homes to building contractors.
Components that create energy-efficient environmentally-friendly houses are wide ranging – from construction techniques, water usage, to the house's power source. States, such as Florida with its Green Home Program, have green home certification programs that allow home sellers to list a third party verification of their green home. Interestingly, in 2006, over 60,000 Energy Star-rated houses were added to the Texas real estate market with many of them costing the same as less energy efficient homes in their same markets.
Green home construction techniques are noted for walls and roofs with high insulation factors, recycled building materials, low power lighting, insulated windows and doors, solar exposure positioning, toxin reducing low VOC (Volatile Organic Compounds) paints and formaldehyde-free carpet and plywood. At comparable pricing, green homes are a natural fit for first time home buyers who are looking for the most house for their mortgage payments. With lower energy costs, the first time home buyer, usually on a tight budget, can stretch the income farther with a green house.
The effect of the greening effort has caused construction changes, even with companies that do not see themselves as green home builders. With the rise in LP and electricity costs, traditionally constructed homes have begun to use 2 x 6 external wall framing versus the 2 x 4 framing. The additional two inches of insulation translate into year-round energy savings. With the building techniques able to construct air tight houses, builders are taking care that the air/moisture barrier and insulation layers are done correctly so that mold problems are not created by moisture trapped in the walls.
Between energy costs rising and Hollywood celebrities keeping the climate change problems in the news, more buyers are paying attention to the EPA's Energy Star program. Whether it is regarding an appliance or an entire house, the real estate market is getting greener. Make sure you include information on your local green market on your real estate website!
Click on the button below and let us know you would like to receive the FREE SEO Limited Offer on a NEW IMCD Website.
IMCD of Colorado, Inc., established in 1996 is a professional web design company providing affordable business & real estate web design and development services for real estate agent websites and business websites. IMCD Websites are built utilizing the latest Mobile Responsive Web Design technology while also being SEO friendly.
IMCD of Colorado, Inc.
Address: 4833 Front Street, Unit B-306
Castle Rock, Colorado 80104
Local Phone: 303-688-1331
Toll Free: 877-999-4623
Fax: 303-688-8842