Using Trulia and Zillow to Adapt Real Estate Website to Search Engine Sea Changes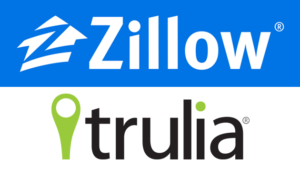 Real estate agents and brokerages need to pull out all the stops to effectively keep their real estate websites positioned on Google and Yahoo, the two leading search engines, and to adapt to market trends in today's slow real estate market. There is a two pronged real estate situation causing some real estate agents to get corralled into unproductive labor to secure listings.
Google and Yahoo have apparently tweaked their search algorithms to give priority in front page ranking to mega real estate websites such as Trulia, Zillow and Realtor.com. The slow down and price drop in the housing market has caused 12% more of the sellers in the market to try the "for sale by owner" route, instead of listing with a real estate agent.
With listing information more available and a slow housing market, some real estate agents have taken to painting houses, doing clean up and maintenance to build relationships and win listings. While extra help, such as giving a client a lift back to work after a showing, is usual, recent efforts to secure clients has raised liability and loss of sales time concerns.
Is there a better way to roll with the internet marketing punches? Yes. Trulia has a free linking section and an Agent Feature Listing program that provides even more opportunity to funnel traffic to your personal real estate website. Realtor.com also has a feature allowing real estate agents that are MLS participants (and who's Multiple Listing Service must be a REALTOR.com® data content provider) the ability to upgrade their listings with more photos, contact information and web links. Zillow allows real estate agents to add their picture and contact information, such as your website, to your listings for free. Top real estate companies such as RE/MAX and Prudential are actively utilizing Trulia's additional market reach.
The Trulia Voices section allows real estate agents to further their market presence by answering questions from active buyers and sellers. In your answer, you have an opportunity to guide the reader back to your website for further information. Most effective, of course, is finding the questions from people in your market area. Trulia Voices can also serve as part of your market feedback loop. After reviewing questions posted to the site, you can create an informative blog entry on your real estate website and direct your reader to that entry in your answer.
According to Trulia, 68% of their visitors checking their website listings are not working with a real estate agent yet. By increasing your visibility on Trulia and Zillow, you can ride your part of the 10 million visitors a month wave and harness Zillow's and Trulia's commanding search engine presence to capture those untethered warm sales leads.
By integrating Trulia and Zillow into your internet marketing strategy, you gain exposure to a larger market that can show your listings, but better still, drive traffic to your real estate website so you can capture the leads. The greater visibility translates to the potential for a faster sale. Real estate agents now have even more to offer the "sale by owner" sellers who would willingly trade their perceived savings for the quicker sale.
Click on the button below and let us know you would like to receive the FREE SEO Limited Offer on a NEW IMCD Website.
IMCD of Colorado, Inc., established in 1996 is a professional web design company providing affordable business & real estate web design and development services for real estate agent websites and business websites. IMCD Websites are built utilizing the latest Mobile Responsive Web Design technology while also being SEO friendly.
IMCD of Colorado, Inc.
Address: 4833 Front Street, Unit B-306
Castle Rock, Colorado 80104
Local Phone: 303-688-1331
Toll Free: 877-999-4623
Fax: 303-688-8842