Real Estate Websites – Once An Option, Now A Must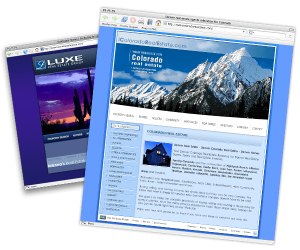 The real estate market has always been one of the most competitive markets. This fact will not change as long as people continue to move and the rewards or real estate brokerage remain attractive. What is changing is the way real estate agents are capturing market share. Traditional marketing avenues are still beneficial, but well designed and optimized real estate websites are becoming the highest return on marketing investment.
Other marketing avenues are one way streets – you deliver your message on the radio to someone who listens, in a magazine to someone who reads, or on TV to someone who…is flipping the channel. Internet marketing opens up the whole world of interactive marketing. Competitive real estate agents know how to work this interactivity to their advantage (or connect up with a web designer who does).
Internet buyers more quickly focus their home search by viewing your listings. This means real estate agents spend less time visiting properties with their clients before arriving at a sale.
The internet provides the least expensive and fastest way to for interested people to contact you. Contact forms and email links make contacting you easy, even if a potential client is visiting your site at 1 AM.
The Internet is growing in usage and the average age of home buyers is decreasing. That means the trend of real estate buyers are internet savvy and go to the internet first to find information. This is, after all, the generation that coined the term "googling".
You can provide tools to help your clients make decisions. Mortgage calculators help buyers figure how much of a house will fill their budget. Mortgage and financial calculators are great Internet marketing tools, but according to the National Association of Realtors, only 58% of the real estate websites provide them.
Create an atmosphere of trust even before you meet your clients. Agent profile pages are a golden opportunity to show how people benefit from working with you. Sadly, almost 30% of the NAR surveyed websites failed to take advantage of this tool.
Room for Improvement. In 2006, per the NAR, the average real estate website accounted for only 10% of the firms leads. This figure may indicate how many real estate websites are under utilized and in need of web design and search engine optimization help.
Of the 85% of home buyers using Realtors in 2006, 75% reported that they found the real esate websites helpful.
Looking at the last two facts, you can see that even if your website is not yet your best lead generation tool, real estate internet sites have become a primary educational tool for many real estate agents. Whether it is downloadable buyer and seller guides and checklists in PDF format or informational web pages – as an educational tool, your real estate website becomes a big time saver for you.
Keep your traditional marketing methods going that are working successfully for you, of course, but don't miss high return on investment you receive from owning your own professionally designed real estate website.
Click on the button below and let us know you would like to receive the FREE SEO Limited Offer on a NEW IMCD Website.
IMCD of Colorado, Inc., established in 1996 is a professional web design company providing affordable business & real estate web design and development services for real estate agent websites and business websites. IMCD Websites are built utilizing the latest Mobile Responsive Web Design technology while also being SEO friendly.
IMCD of Colorado, Inc.
Address: 4833 Front Street, Unit B-306
Castle Rock, Colorado 80104
Local Phone: 303-688-1331
Toll Free: 877-999-4623
Fax: 303-688-8842