Is Your Money Spent on Your Real Estate Websites Wasted
Is your real estate website bringing the return on your Internet marketing investment that it should? The sad truth is 88% of all real estate websites generate less than 25% of a real estate agent's business. Almost 30% of the real estate websites generate NO business. Is your site one of those?
Why is this important? Almost 85% of the people searching for new homes use the Internet. That number is a huge jump up from the number of people using the internet to search for real estate or for a real estate agent four years ago. Two things are sure to happen:
In the future a greater percentage of people will use the internet and
It will only become more important that your real estate website be designed to be optimized for search engines and able to capture the attention and contact information of your website visitors.
There are real estate websites that do generate business; it should not be your "must have" Internet marketing expense. 12% of the real estate websites surveyed by the National Association of Realtors said more than 25% of their business came from their websites. Simply put, the benefit of having an optimized, well performing real estate website can be a 25% raise. Or more.
IMCD Web Design designs real estate websites that are visually appealing, informative for the website visitor, keyword-rich for the search engines and very successful in capturing qualified sales leads.
"We had our web site with another company for a few years and were getting about 5-6 leads a month" reports Rick and Suzy Allemang, Colorado real estate agents. "We had IMC build a new site for us. Within one day we got a buyer under contract and we currently receive 5-7 leads a day! Within the first 7-8 months of this year we have closed 30-40 deals off the site!"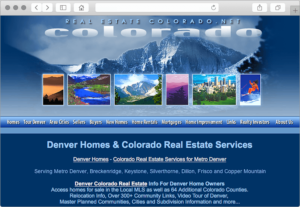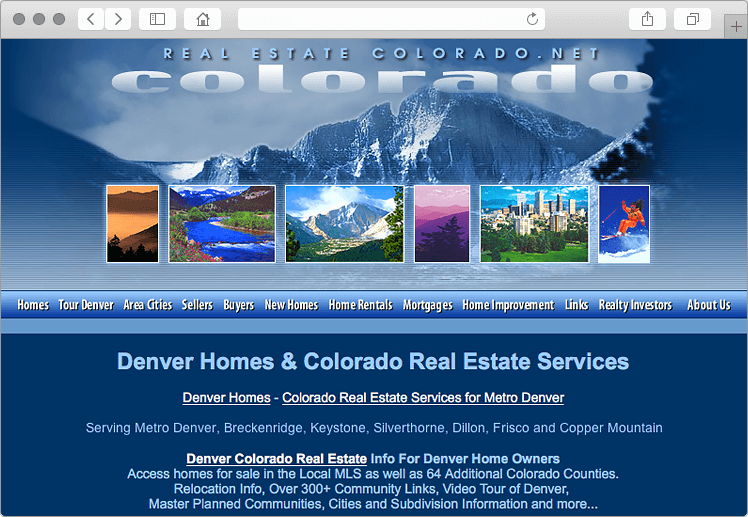 How successful can a well designed and deployed real estate website be? The "more than 25%" figure is the starting point. Jeff McClintock of Denver Colorado added up the benefits of his IMC real estate website:
"As a result of the success I have enjoyed, from the web sites, it has enabled me the luxury of being able to open my own firm and manage a staff of 6 broker associates. Each of the 6 associates receives leads on a round robin basis and each associate consistently grosses over $75,000 a year from web leads.
We are blessed with an annual gross commission from our web site that exceeds $700,000. It is through guidance and on going support developing new and innovative ways to deliver our services to clients that IMC offers that helps make this possible."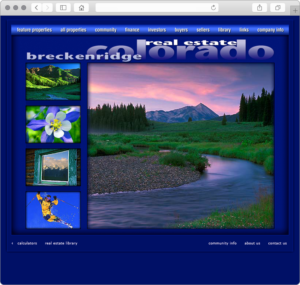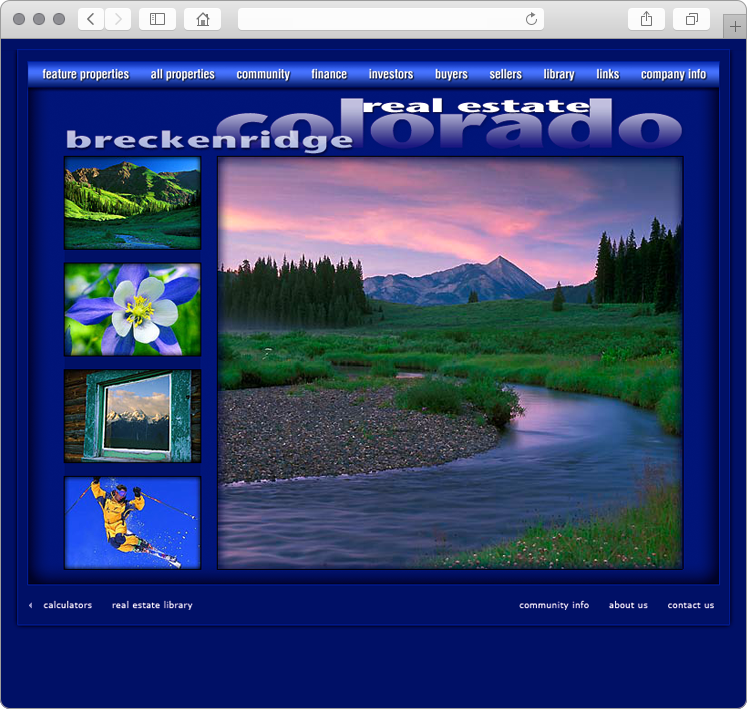 Jeff has 2 real estate websites with IMC. Within the first several months Jeff's newer Breckenridge Colorado real estate website ranked on page 2 & 3 in Google. After Jeff beefed up his Internet marketing with his Breckenridge real estate blog and began regularly adding content, his site moved up in ranking to consistently captures the #1 or #2 position on Google for his keyword "breckenridge colorado homes".
Located above are just a few examples of how IMC helped customers succeed with their real estate websites. IMC has many examples of success similar to the real estate websites listed here and would love to make you their next success story. Review where your site ranks on Google (the most used search engine) and see how many qualified leads a month you are receiving. Maybe it is time to reconsider your where you spend your Internet marketing dollars. Contact IMC today for a free phone consultation regarding you new real estate website.
Click on the button below and let us know you would like to receive the FREE SEO Limited Offer on a NEW IMCD Website.
IMCD of Colorado, Inc., established in 1996 is a professional web design company providing affordable business & real estate web design and development services for real estate agent websites and business websites. IMCD Websites are built utilizing the latest Mobile Responsive Web Design technology while also being SEO friendly.
IMCD of Colorado, Inc.
Address: 4833 Front Street, Unit B-306
Castle Rock, Colorado 80104
Local Phone: 303-688-1331
Toll Free: 877-999-4623
Fax: 303-688-8842