Real Estate Technology Briefing: Laptop Decisions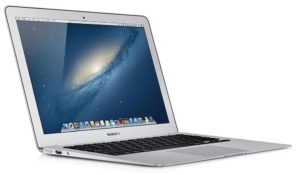 Technology available for real estate agents has moved forward again with Apple's release of the Apple Macbook Air. This is the laptop to take on the road or to the coffee shop to keep up with emails and the latest in real estate news.
Like other Macbooks, the Air has a full-sized backlit keyboard. The light intensity of the keyboard as well as the screen display is automatically adjusted by an ambient light sensor. Nice for when everyone turns off their lights on the airplane.
Not just another laptop, the Macbook Air has an extremely sleek form and earns its name well weighing in at a very portable 3 pounds. But where Apple surged ahead technologically was the use of 64GB solid-state hard drive. The days of the spinning disks for storing your real estate listings and files has peaked. The future of hard drive memory is lighter solid state chips.
The internal wireless and Bluetooth cards allow real estate agents full flexibility of using the Macbook Air to work on emails or show clients their listings on their real estate website anywhere there is a wireless connection: office, home or corner cafe.
Toshiba recently announced it is coming out with its super portable laptop, the Portégé R500-12Q with a 128GB solid state drive. Both the Toshiba and the Apple are also packing in more RAM and processor power than most home computers have today. Expect every major computer maker to follow this trend, possibly leading to some very wish-fulfilling holiday season shopping later this year.
The portability trend continues to make technology smaller, more robust and versatile. Interesting note: recent studies found that iPhone owners used their iPhones less as phones than owners of similar products. Turns out they use the picture taking, emailing and web browsing features quite a bit. The trend towards more portability works to the advantage of real estate agents constantly on the move.
Click on the button below and let us know you would like to receive the FREE SEO Limited Offer on a NEW IMCD Website.
IMCD of Colorado, Inc., established in 1996 is a professional web design company providing affordable business & real estate web design and development services for real estate agent websites and business websites. IMCD Websites are built utilizing the latest Mobile Responsive Web Design technology while also being SEO friendly.
IMCD of Colorado, Inc.
Address: 4833 Front Street, Unit B-306
Castle Rock, Colorado 80104
Local Phone: 303-688-1331
Toll Free: 877-999-4623
Fax: 303-688-8842