IMCD Real Estate Websites – Designed to Motivate Website Visitors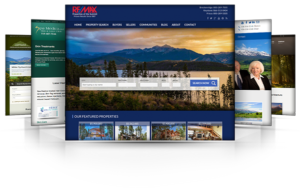 IMCD Web Design designs real estate websites that motivate website visitors to send their contact information to real estate agents. Having a Contact Us page or a guestbook page is not enough to galvanize people to action. Without a motivating design, guestbooks can cause visitors to search for house listings on another websites. A few years ago John Baldoni wrote a book on the way great leaders motivated people. IMC real estate website designs incorporate some of these secrets.
Focus on customer's needs. IMC designs real estate website navigation to make it easy for visitors to find the featured properties, library of buyer and seller guides, as well as calculators to help them in their home buying or selling endeavors. IMC also uses proven color schemes that attract a viewer's attention in those critical first 90 seconds of exposure to your website.
Present agents as expert support. IMC encourages agents to present themselves throughout the website from the point of view of "benefits to the client". In a real sense, the agent's ability, expertise and enthusiasm are the service that website visitors are being motivated to desire. A long known sales maxim is that people buy on benefits or the service, not on features of the service provider.
Provide resources to create win-win relationships. The real estate agent appears as a coach by providing a real estate library dedicated to supporting visitors with the resources necessary to educate them to the home buying and selling process.
Designed for frequent communication. With the real estate blog, neighborhood news tool, automatic reply emails as well as the email notification tools, IMC website designs make it very easy for real estate agents to use their website as a major communications channel.
Put customers first. In real estate, referrals are a key element to continual and repeat sales. A satisfied customer is a valuable walking advertisement. IMC real estate websites are designed to create an atmosphere that supports the home buyer's and seller's efforts and, in so doing, create a superb marketing vehicle for the real estate agent.
IMCD's real estate websites are designed to translate a website visitors' generic desire to buy or sell a house with the help of a Realtor to the specific desire to work with that particular Realtor. And IMCD gets its motivation from the gratitude of Realtors in the US and Canada benefiting from IMCD real estate websites.