Internet Marketing vs Traditional Advertising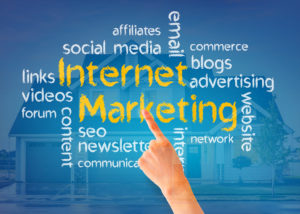 Real estate website marketing is very different than traditional advertising in the print, TV and radio venues. When shifting your real estate marketing resources from traditional marketing methods to internet marketing, understanding the different marketing activities are necessary.
Traditional advertising is to a great degree directed toward a rather static audience. Advertising is purchased after matching the demographics (age, buying habits, race, sex, etc.) to a target market. Real estate companies facilitating sales of high-end homes put ads in magazines, such as Forbes, that target their demographic: successful business people looking for homes that make a statement with size and price. Traditional advertising seeks the market.
Internet marketing is directed to a constantly shifting audience. It takes the opposite approach of placing their message on the internet and the market finds them through web links or search engine results. The market seeks the advertisement.
Traditional marketing tends to attract a broader audience to make the most of the advertising dollars. Internet marketing (and a real estate website is no different) is most successful when targeting niche markets, not broad markets.
Another key marketing difference is that when someone purchases a newspaper or magazine, they get the ads whether they requested it or not. On the internet, visitors arrive at your real estate website because they bookmarked it, got a referral to it or picked it from a search engine result. There is a free will choice involved. If someone clicks on more than one or two pages of your website, you now have a target market.
With the warm lead interacting with your site, the third key marketing difference kicks in. The real estate buyer or seller on a website can send their contact information to a real estate agent or send an email requesting information or a call. This dynamic interaction can not be duplicated by newspapers, magazines, TV or radio. At best, traditional marketing interaction demands extra steps from the audience, even if that is just picking up a phone. When someone is browsing the internet, they are already using their keyboard. Contacting the real estate agent is just continuing what they were doing already.
When structuring the marketing content on your real estate website, put out the information that your target market is searching for and your market will come to you.
Click on the button below and let us know you would like to receive the FREE SEO Limited Offer on a NEW IMCD Website.
IMCD of Colorado, Inc., established in 1996 is a professional web design company providing affordable business & real estate web design and development services for real estate agent websites and business websites. IMCD Websites are built utilizing the latest Mobile Responsive Web Design technology while also being SEO friendly.
IMCD of Colorado, Inc.
Address: 4833 Front Street, Unit B-306
Castle Rock, Colorado 80104
Local Phone: 303-688-1331
Toll Free: 877-999-4623
Fax: 303-688-8842