IMCD Web Design Company Specializes in Organic Search Rankings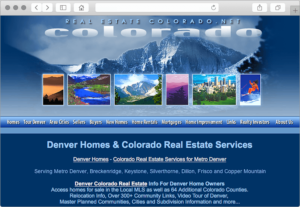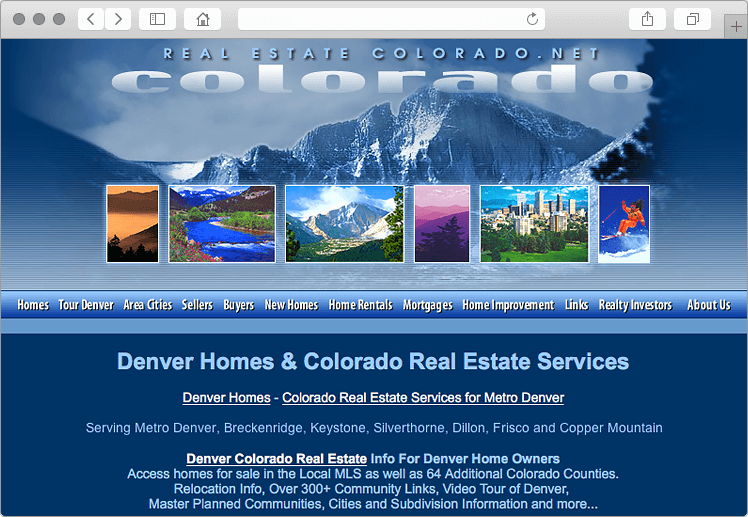 IMCD stands out from competitive website design companies for our custom website design and an SEO management program that favors the organic climb in search engines.
For example, the following IMCD client began with IMCD web design firm in 1998. A Colorado real estate agent, the successful client has closed over $145 million in home sales from his IMCD website. After retiring, he leased the website to local Realtors.
The elaborate SEO web site design is compelling as a business development tool. In the case of this website, the real estate agents are busy servicing 10-15 guest book leads a day. In the past the website generated over 40 leads a day during the peak season months of March to August. Each month, the site averages approximately 2 million hits and 90,000 unique visitors. It generates over 11 million hits a year.
This agent never paid for pay-per-click rankings in the search engines. All of his top search engine results come through organic searches. For more than six years, the website consistently ranks on Page One in Google: for Denver Colorado homes and for Denver Colorado real estate, and #1/2 for Denver Colorado real estate for sale, plus other search terms such as Denver CO homes, Colorado rental property, and Colorado rental properties.
In addition, the website holds multiple top positions in other search engines such as MSN and Yahoo. In 2011, an SEO report run by IMCD shows the following listings: 2 in the first position, 11 in the top 5 positions, 22 in the top 10 positions, 38 in the top 20 positions, and 53 in the top 30 positions. The website consistently beats out Trulia.com, Realtor.com, the local MLS, and Craigslist for many popular keywords.
The client attributes his success to the IMCD website technology and design. His national company featured him as guest speaker during several national mega conventions with thousands of real estate agents in attendance.
After experiencing excellent results from this first website, this client subsequently contracted a second real estate website in another real estate market which he leases out. He currently has a third website in the field of his hobbies.
Click on the button below and let us know you would like to receive the FREE SEO Limited Offer on a NEW IMCD Website.
IMCD of Colorado, Inc., established in 1996 is a professional web design company providing affordable business & real estate web design and development services for real estate agent websites and business websites. IMCD Websites are built utilizing the latest Mobile Responsive Web Design technology while also being SEO friendly.
IMCD of Colorado, Inc.
Address: 4833 Front Street, Unit B-306
Castle Rock, Colorado 80104
Local Phone: 303-688-1331
Toll Free: 877-999-4623
Fax: 303-688-8842