Two Custom Designed Real Estate Websites with Amazing Results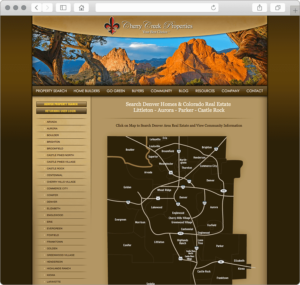 "Amazing Results!! Keeps Getting Better" boasts an enthusiastic client who purchased one, then a second IMCD Custom web design with SEO. The first website incorporated IMCD web design for real estate sales in a competitive Colorado market.
This client takes an extraordinary interest in the user-friendly SEO web design. While IMCD was building the professional website design, the client gathered research, took photographs, and wrote SEO-rich articles about the communities, suburbs, and attractions in the area. As soon as the website went live, they added hundreds of extra pages of content with relevant information for potential buyers and sellers.
Today, the Central USA website has 10,800 pages indexed in Google. They subscribe to our Special SEO Program and an upgrade with IDX. The client captures many rankings on Page One in Google for highly competitive words. Consequently, this client does not need to pay for placement in the pay-per-click section of the search engines.
Capitalizing on the experience and success of the first website, the client purchased another custom site with real estate website design. A new site with a new domain name, the second website serves the Carolinas and has 7,380 pages now indexed in Google. The client also subscribes to the Special SEO Upgrade with IDX.
These grateful clients exclaimed, "We have had 10 organic sign-ups in the past two days! Thanks!" Asked if we could show the website as an example, they replied, "Four more organic leads today!"
Click on the button below and let us know you would like to receive the FREE SEO Limited Offer on a NEW IMCD Website.
IMCD of Colorado, Inc., established in 1996 is a professional web design company providing affordable business & real estate web design and development services for real estate agent websites and business websites. IMCD Websites are built utilizing the latest Mobile Responsive Web Design technology while also being SEO friendly.
IMCD of Colorado, Inc.
Address: 4833 Front Street, Unit B-306
Castle Rock, Colorado 80104
Local Phone: 303-688-1331
Toll Free: 877-999-4623
Fax: 303-688-8842