IMCD Version 9 Real Estate Web Design Building Impressive Track Record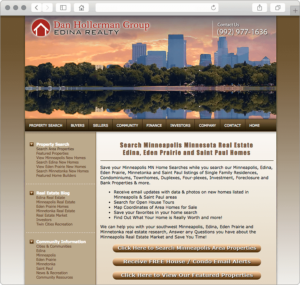 Since IMCD Web Design fully introduced its Version 9 real estate website design in early 2008, client websites have been building impressive track records with search engine ranking. Whether updating prior sites or starting from scratch with new domain names, clients have seen their real estate websites go from virtually nowhere on the critical top five pages to high ranking and tremendous visibility just in a few short months.
One of our customized Version 9 website designs built for a business that works heavily with the construction industry and homeowners improving the equity in their real estate started with a new domain name and by starting with a content-rich website, consistently rank on Google's first page for many of the keyword search terms.
The Version 9 real estate website design is the latest evolution of our websites designed to help brokers and Realtors create a very visible marketing window on the Internet. To start with, the Version 9 websites take advantage of advances in CSS techniques that help graphically-intensive websites (which real estate websites are by nature) load rapidly. Our page template structure allows the design to incorporate a wide array of real estate tools, either on its initial launch or at later stages of development.
Many of our most successful stories with relatively rapid rises in the search engines for a new domain are websites where the real estate agents took advantage of adding additional modules such as the Featured Listing tool, article manager for continually adding content and keyword-rich real estate market news and information, and a real estate blog for its informative and advantageous search engine pinging nature. This website design also utilizes the guestbook pages for harvesting leads that has proven successful on all our real estate website designs.
If your virtual real estate office on the Internet is hard for customers to find with their Google or Yahoo searches, it may be time to explore a redesign of your Internet presence. Contact us to see how soon we can improve your Internet image and return on your real estate website investment!
Click on the button below and let us know you would like to receive the FREE SEO Limited Offer on a NEW IMCD Website.
IMCD of Colorado, Inc., established in 1996 is a professional web design company providing affordable business & real estate web design and development services for real estate agent websites and business websites. IMCD Websites are built utilizing the latest Mobile Responsive Web Design technology while also being SEO friendly.
IMCD of Colorado, Inc.
Address: 4833 Front Street, Unit B-306
Castle Rock, Colorado 80104
Local Phone: 303-688-1331
Toll Free: 877-999-4623
Fax: 303-688-8842