IMCD Unveils Ver 10 Real Estate Web Design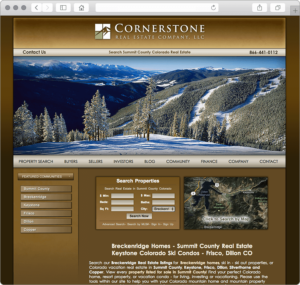 IMCD has debuted its Version 10 real estate web design. As with its other customized real estate websites, Version 10 has the ability to integrate a real estate blog, feature listings manager, IDX and MLS search pages, article manager and many brand-enhancing market-specific sales pages that are hallmark on IMC's designs.
Version 10 has a wider area for content than many real estate websites, allowing real estate agents to capitalize on the abundance of wider screens used by many online home buyers today. Flat screen monitors for desktops and laptops have substantially decreased in price over the last few years leading to a larger average screen size that web designers can use without worrying that the scroll bar will be needed to see the entire web page.
IMC's Version 10 real estate web design offers 20% more width than most standard websites. In online marketing terms, this allows agents to have more content "above the fold" on their website. The area "above the fold" is the area of the web page that is visible without any vertical scrolling – the most important area for grabbing attention of the viewer and placing content for the search engines.
The increase in web page size also allows agents to show a larger slide show of real estate properties and area features on the home page and, at the same time, increases the content area. Just like in magazines and newspapers, the web page items that first meet the eye are your best – and sometimes only – shot at capturing your potential clients' attention. Older web designs often are limited to 750 to 800 pixel width to accommodate the 13 and 14 inch screens. However, IMC's new Version 10 design takes advantage of the fact that computer hardware competition has moved many consumers into ownership of 15 to 17 inch screen laptops and desktops with 17 to 22 inch screens.
IMC's real estate web designs have been customized for agents serving the luxury, ski resort, ranch, horse property, residential and commercial real estate markets across the United States. If you are ready to move up in the search engine rankings and improve your online marketing visibility, join our growing ranks of satisfied real estate clients. Contact IMC's real estate web design specialist today and view all our real estate web designs to see which one will best meet your online marketing strategy.
Click on the button below and let us know you would like to receive the FREE SEO Limited Offer on a NEW IMCD Website.
IMCD of Colorado, Inc., established in 1996 is a professional web design company providing affordable business & real estate web design and development services for real estate agent websites and business websites. IMCD Websites are built utilizing the latest Mobile Responsive Web Design technology while also being SEO friendly.
IMCD of Colorado, Inc.
Address: 4833 Front Street, Unit B-306
Castle Rock, Colorado 80104
Local Phone: 303-688-1331
Toll Free: 877-999-4623
Fax: 303-688-8842