How IMCD Web Design Company Can Reduce Marketing Costs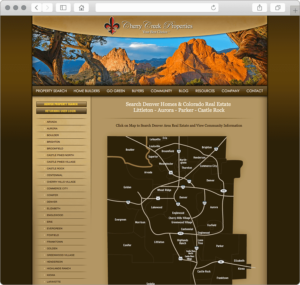 IMCD Web Design Company Reduces Marketing Costs: This client strategically utilized IMCD Web Design Company to reduce the average real estate transaction cost. The client disclosed the facts in a referral statement. "What once cost $750 per close now costs $38."
What website strategy did this real estate agent employ? In 2004, he began leasing a website at a cost of $1500 per month from another prominent company. Then, he paid an additional $1500 per month for Pay-Per-Clicks (PPCs). The grand total came to $36,000 per year. The real estate company closed 48 deals a year for an average transaction cost of $750.
This price still beat any cost of referral fees, so he continued in this vein for another few years. However, growing costs and a weakening real estate market aggravated the equation. The cost of the Pay-Per-Click services kept going up. In 2007, the housing market took a dive.
The agent began searching for a real estate web design company that would build a search engine friendly website, one compatible with the search engines. To find IMCD, he put the #1-ranking keyword-phrase for his metropolitan area into the Google search box. One of IMCD's websites appeared in the first spot on Page One. He gave us a call and signed up. His new IMCD Web Design was born in the middle of 2009.
The client was so delighted with the quick results from his new IMCD real estate web design that he contracted for a second website the following year. A family situation required him to move several states away. He wanted similar colors and design for the second site. Today, the first site has over 22,000 pages indexed on Google and the other 34,000!
Now utilizing two websites created by IMCD Web Design Company, the client is able to reduce his costs and generate the same 48 closings for an amazing $38 each. This is a fraction of the expense involved with the previously leased website that had PPC costs of $750 per transaction. He now pays $1350 per year for the website plus $40 per month for IDX Broker services. And the first IMCD website makes him about $40,000 a year in passive income which comes through leads given to his agent in the first city.
The client says that the Neighborhood pages on his website are very effective bringing in leads. Each client, in this case a real estate agent, has access to his IMCD website and is responsible to add content. This successful IMCD client has diligently added that content which has helped to boost the number of web pages indexed in Google and the other search engines. He now plans to add SEO services offered by IMCD Web Design.
~ ~ ~
Click on the button below and let us know you would like to receive the FREE SEO Limited Offer on a NEW IMCD Website.
IMCD of Colorado, Inc., established in 1996 is a professional web design company providing affordable business & real estate web design and development services for real estate agent websites and business websites. IMCD Websites are built utilizing the latest Mobile Responsive Web Design technology while also being SEO friendly.
IMCD of Colorado, Inc.
Address: 4833 Front Street, Unit B-306
Castle Rock, Colorado 80104
Local Phone: 303-688-1331
Toll Free: 877-999-4623
Fax: 303-688-8842