Effective Colorado Real Estate Websites – Constant Promotion For Visibility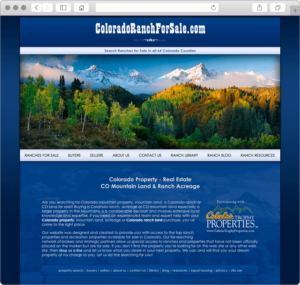 Effective Colorado real estate websites know that in good markets as well as market downturns, property still changes hands. Colorado real estate agents are succeeding in closing sales and gaining listings. What is the cause behind the successful real estate website success? Constant promotion and Internet marketing activity by the Realtors. Real estate agents that are continuing to stay profitable and successful are staying visible in the search engines.
Too often in down markets companies scale back on marketing. With real estate online marketing as well as traditional marketing, the effects of scaling back are felt further down the road. As Lori Snider of Creativity for Rent put it in a recent interview with Realty Times, "It's easy [to stop promoting] because you don't see the immediate impact. What happens is you slowly lose momentum to the guy that continued promoting. Once you're gone, the consumer doesn't know you're there because there is so much product."
Lets look at Colorado. The Colorado online real estate market is a very competitive market for Realtors. Not only do they compete against local real estate companies, but they also have heavy weight contenders in the national chains and large online websites competing on the same basic keywords. Is it possible to compete? In the experience of IMCD Web Design , "Yes". The caveat is "Compete wisely, after determining what is the entry price to competition."
IMCD has worked with Realtors to create Colorado real estate websites that successfully compete with major sites like Trulia for top search results for keywords in the major markets of Denver, Breckenridge, Boulder, Durango and Colorado Springs. These websites follow the principles of SEO, graphic design that keeps visitors on the website, and constant promotion through real estate blogs, article managers and featured listings.
If effective promotion and competitive real estate online marketing are on your agenda, call IMC's sales team about your Colorado real estate website. Put our time-tested track record to work for you.
Click on the button below and let us know you would like to receive the FREE SEO Limited Offer on a NEW IMCD Website.
IMCD of Colorado, Inc., established in 1996 is a professional web design company providing affordable business & real estate web design and development services for real estate agent websites and business websites. IMCD Websites are built utilizing the latest Mobile Responsive Web Design technology while also being SEO friendly.
IMCD of Colorado, Inc.
Address: 4833 Front Street, Unit B-306
Castle Rock, Colorado 80104
Local Phone: 303-688-1331
Toll Free: 877-999-4623
Fax: 303-688-8842