Don't Be The Invisible Man – Follow Our Search Engine Ranking Tips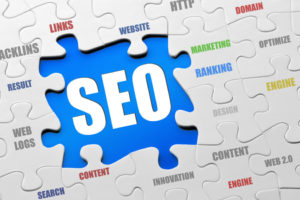 Getting your real estate website ranked by the search engines, especially Google, is done by what is called Search Engine Optimization (SEO). Earlier we covered the positioning aspects of SEO, such as valuable page content, descriptive file naming, and a picking a good domain name. The other aspect of SEO is the DON'Ts. As great as your content may be, transgressing a search engine's line could "delist" your site from the search engine's index of qualified web sites. A delisting would make your site invisible for your potential customers who use search engines (most of them).
Search Engine Ranking Mistake #1: Over-using keywords in the meta description, article content and alt tags. The alt tag is the alternate text for a graphic if people do not download the graphic. Search engines check the keyword density as well as keyword relevancy on each page to detect bona fide informative pages versus pages where people are keyword stuffing. A maximum keyword density of 3 – 4% is the rule of thumb for keyword density.
Search Engine Ranking Mistake #2: Using hidden text to add keywords to a page. Search engines detect the html and css code that hides text from being seen by the browsers. Hidden text is legitimately used to make notes about the layout or code changes. But layout notes traditionally do not have an over abundance of keywords stuffed in them. The search engine algorithms can easily check the content of the hidden text against the keywords. Another trick to make writing invisible or look like a dotted line is to use white lettering on white background or 4 point font size. Don't try to outsmart a relentless word cruncher that lives in a world of code – it does not work.
Search Engine Ranking Mistake #3: Don't continually submit your site to the search engines. Submit it once and then concentrate on adding content. Better to follow basic good website design and SEO practices to arrive on Google's first page naturally.
All of these mistakes can fall under the heading of "trying to fool the search engines". Do not waste all your good effort adding content, researching keywords and adding links. Any new tricks are discovered sooner or later and then the search engines take all the sites that are found with the new trick out of their index.
Click on the button below and let us know you would like to receive the FREE SEO Limited Offer on a NEW IMCD Website.
IMCD of Colorado, Inc., established in 1996 is a professional web design company providing affordable business & real estate web design and development services for real estate agent websites and business websites. IMCD Websites are built utilizing the latest Mobile Responsive Web Design technology while also being SEO friendly.
IMCD of Colorado, Inc.
Address: 4833 Front Street, Unit B-306
Castle Rock, Colorado 80104
Local Phone: 303-688-1331
Toll Free: 877-999-4623
Fax: 303-688-8842