Do You Know The 7 Rules Of Netiquette? Guidelines to Follow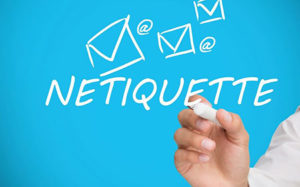 Do you know The 7 Rules Of Netiquette?
Rules to Follow When Posting Messages to Newsgroups and E-mail Discussion Lists:
Have some news and helpful information. Vague descriptions of a "cool" site aren't enough.
Be brief!
Make sure your information is relevant to the list.
Be "chatty" – try not to sound like you're making a pitch.
Post to each group individually, and tailor your message to the group. For this you'll need to follow the list for a week or so before you post to it, or else read the archives.
Have a talk with the moderator. Ask them if they'll mind your post. If the moderator likes your product or service, then you know you've got the right group … and if you're lucky, the moderator will give you some support.
Follow up on the list. People often send replies to the list without cc'ing you.
One ought to follow a list regularly and post messages that contribute to streams of conversation. But if you haven't the time or the energy for that, then this is a good alternative.
Please Visit These Sites:
To Find Newsgroups and E-mail Lists of Your Specific Interest
Liszt (Searchable Directory of E-mail Discussion Lists)
Google (Find Newsgroups that are of interest to you)
Click on the button below and let us know you would like to receive the FREE SEO Limited Offer on a NEW IMCD Website.
IMCD of Colorado, Inc., established in 1996 is a professional web design company providing affordable business & real estate web design and development services for real estate agent websites and business websites. IMCD Websites are built utilizing the latest Mobile Responsive Web Design technology while also being SEO friendly.
IMCD of Colorado, Inc.
Address: 4833 Front Street, Unit B-306
Castle Rock, Colorado 80104
Local Phone: 303-688-1331
Toll Free: 877-999-4623
Fax: 303-688-8842