Creating Good Real Estate Website Habits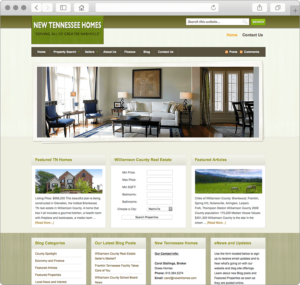 Your real estate website can take advantage of the current market conditions. Drayton Bird, a British advertising legend said, "Good times breed bad habits. Bad times breed good habits." This is true in online real estate marketing also. What are the good habits that can be improved in real estate market downturns?
1. Utilize your real estate blog on a weekly basis – or if you do not have a blog, get one.
IMCD Web Design has long offered a real estate blog option for integration into your customized web design. Ingraining the habit or discipline of weekly adding content to your real estate website adds more reasons for people to visit your site regularly, builds your image as a real estate expert and improves your website's search engine optimization.
2. Maintain your listings as up-to-date as possible.
Web visitors quickly form the opinion that a website with old material is a marketing after-thought and migrate to websites that are kept up-to-date. Unfortunately, they do not give you any customer feedback before leaving your website, so this is an area you have to trust the web visitor behavior studies. As time consuming as it may be, establishing the good habit of listings maintenance pays off in visitor retention and website trustworthiness.
3. Similar to Habit #2, maintain your external website links.
At least quarterly, do a review of your external website links to make sure none have changed. One area to always check is links to government websites. It is our experience that, possibly due to personnel changes that happen after elections, government websites have often had major web design changes that turn all the old page addresses into "page not found" errors.
4. Improve your online writing skills.
Take the time to study what makes effective headlines, opening sentences and web content so your blog entries improve their sales lead generation aspect. There are also articles on the web on how to improve the SEO aspect of your blog writing. The way your real estate blog's content is presented can mean all the difference in the world for how well it ranks in the various search engines' results.
However, all the good web habits in the world can't overcome bad web design. If you need a strong foundation for your online marketing, contact IMCD Web Design and see how our real estate web design or our business websites can improve your sales lead generation.
Click on the button below and let us know you would like to receive the FREE SEO Limited Offer on a NEW IMCD Website.
IMCD of Colorado, Inc., established in 1996 is a professional web design company providing affordable business & real estate web design and development services for real estate agent websites and business websites. IMCD Websites are built utilizing the latest Mobile Responsive Web Design technology while also being SEO friendly.
IMCD of Colorado, Inc.
Address: 4833 Front Street, Unit B-306
Castle Rock, Colorado 80104
Local Phone: 303-688-1331
Toll Free: 877-999-4623
Fax: 303-688-8842