Balanced Themes for the Most Effective Use of Colors on Websites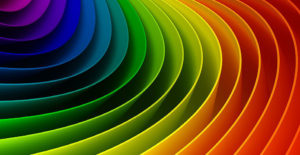 With website color themes, balance is the key ingredient to effective real estate website design. How a color is used, its proportion to other shades of itself or to contrasting colors, as a design background color or highlight, determines its affect. Since the mind can't process all the objects it perceives at once, use of color allows a real estate website design to direct the eye.
Yellow as a color attracts the mind which is beneficial for highlights. Since it also tends to make people restive and want to move about more, yellow as an overall background color would be counter productive to the aim of keeping home buying visitors on your website.
When choosing the lightness and darkness of a color, keep in mind that about 10% percent of the male population suffers from some degree of color blindness. This usually show up if you write something in a light green color on a light pink or red background. It is seen by color blind people as one color, so the words do not stand out. Blue – yellow colors are the second most popular color combination that can't distinguished by color blind people. One technique IMCD Web Design uses to create color blind-proof websites is to use light on dark colors (or vice versa) that the color blind can see, even if it appears like the old black and white TV images.
IMC real estate website designs use a single color theme that pays attention to the "signal detection" theory. Website visitors, due to the way the brain works, can understand and organize data better when fewer colors and shapes exist on the webpage. Add too many colors and shapes and the brain finds it very hard to focus and find anything. This is another reason why IMC designed real estate websites have simple and straightforward navigation buttons.
IMC uses time and market-tested website design methods in their color theme approach to attract the eye and lead it to the website content. Colorful real estate and landscape images capture the attention and set the overall emotional tone for a particular real estate market. The graphics are used in balanced proportion to the overall webpage design so that they don't dominate the important print message.
When you are choosing your real estate website color theme, put your personal color likes and dislikes on hold. In order to have your website achieve its maximum results, the color theme should be one that the market prefers. (The consumer is always right!). IMC has experimented with color combinations on websites for over ten years to find color combinations that enhance a real estate website's message and please the website visitor's eye.
Click on the button below and let us know you would like to receive the FREE SEO Limited Offer on a NEW IMCD Website.
IMCD of Colorado, Inc., established in 1996 is a professional web design company providing affordable business & real estate web design and development services for real estate agent websites and business websites. IMCD Websites are built utilizing the latest Mobile Responsive Web Design technology while also being SEO friendly.
IMCD of Colorado, Inc.
Address: 4833 Front Street, Unit B-306
Castle Rock, Colorado 80104
Local Phone: 303-688-1331
Toll Free: 877-999-4623
Fax: 303-688-8842