Real Estate Marketing Shift Continues Towards the Internet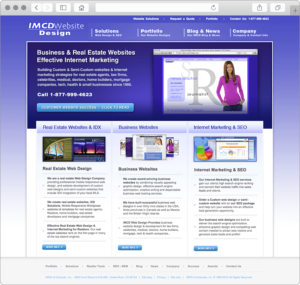 The National Association of Realtors released their latest real estate marketing findings at the end of March. The recent surveys showed that the marketing shift continues towards Internet marketing and away from traditional newspaper marketing.
Using real estate websites to view listings of homes for sale increased 10% from the last NAR survey. Now only 10% of home buyers don't use the Internet to do their home search. Newspaper advertising and magazine ads only attract 12% of the surveyed new home searchers.
What is interesting is that $5 billion was spent chasing 12% of the market and $3 billion was spent chasing 90% of the market. Hmmmmm. What is strange about that picture? One wonders if the newspaper advertising is done to please the seller that all marketing efforts are being made and the real estate website advertising is done to really find the active buyers. 17% of Realtors apparently had the same thought, according to a Classified  Intelligence survey, and don't spend on newspaper advertising.
From an Inman survey 18% of the Realtors surveyed plan to invest over $10,000 over the year in real estate Internet marketing. On the other end of the spectrum, 20% plan to spend less than $1000. What would be interesting is if we could correlate these figures to the agents' success ratio, full-time versus part-time real estate agent, and the volume of leads they get from agent websites. In short, which camp more describes the real estate agents and brokers that are deriving copious leads from their realty and agent websites?
As the advertising venue shifts from print to Internet, real estate websites, if they aren't already, will become the prime avenue for home buying market leads. A foreseen benefit to web savvy real estate agents is that this continued marketing shift will lead to the creation of new technologies and gadgets to help Internet marketers.
Click on the button below and let us know you would like to receive the FREE SEO Limited Offer on a NEW IMCD Website.
IMCD of Colorado, Inc., established in 1996 is a professional web design company providing affordable business & real estate web design and development services for real estate agent websites and business websites. IMCD Websites are built utilizing the latest Mobile Responsive Web Design technology while also being SEO friendly.
IMCD of Colorado, Inc.
Address: 4833 Front Street, Unit B-306
Castle Rock, Colorado 80104
Local Phone: 303-688-1331
Toll Free: 877-999-4623
Fax: 303-688-8842