Your Real Estate Website Design – No Surprises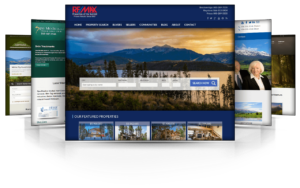 Just as you don't want any surprises when you buy a house or car, make sure you know what you are getting with your website … and what you are not getting. The easiest parts of a website to finalize are the domain name, the hosting, and the physical site layout. The hardest part to define on a website is those elements that most affect the success of your site, but can not be guaranteed – the success of the search engine optimization in the market you are targeting.
An experienced website design company can quickly show you how to choose and get your domain name. Your domain name is important, since done correctly it can boost your placement in the search engines. As simple and unegotistical as it may be, a site named "realestatecolorado.net" or "realestatecolorado.com" will rank better than seymourdoughhomes.com. You may be infatuated with your name (Seymour Dough), but no one is searching for that…except your Mom. Also very important, just as you own your company's name, you want to be the owner of your domain name.
It is beneficial if your website design company also hosts your site for one big reason: you are not a webmaster. Let the design company with their experience handle the headaches of maintaining a site – its email service, its fixing any corrupted files, etc. Even with the website designer hosting the site, you should be able to update certain pages such as community links, adding articles or posting to your blog.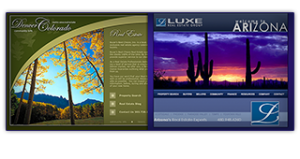 After the domain name and hosting, what is the physical site your are getting? Real estate website designers often have different packages at different prices, depending on what marketing tools you want to use. Initially choose the most site you can get for your budget – each additional feature, such as an article manager or a blog, drives more sales leads to your site. Make sure you start with a basic package that offers some customization and that future website upgrades are easily done. If your website design choice was well made, then the income stream developed from it will easily afford you the ability to expand your site's content and visibility.
Though the effectiveness of a website's search engine optimization can't be guaranteed, there are ways to become reasonably assured of the outcome. Two good ways to check a designer's real estate websites is 1) ask for internet addresses of sites they have done and 2) type in a keyword search phrase, such as "colorado real estate website design" and see if the designer's site or one they have created shows up on the first page of Google or Yahoo, the two most popular search engines.

Optimization results can't be guaranteed because the search engines constantly tinker with their search algorithms – how they rank sites. What you need to know is how often the web designer adjusts your site to try to improve your real estate website's ranking in the keyword and key phrase areas you have chosen.
Knowing that your website design has been successfully tested in the market, you shouldn't have to worry about negative feedback on lack of traffic, lack of taste, too difficult to update and took too long to put up.
Last word: If you do get a site that doesn't work for you, then the best advice is "Don't add bilge pumps to the Titanic". Be willing to keep the domain name and scrap the old site, start your search over, and learn from your mistakes. A successful real estate website should begin to make up for "expensive learning curves".
Click on the button below and let us know you would like to receive the FREE SEO Limited Offer on a NEW IMCD Website.
IMCD of Colorado, Inc., established in 1996 is a professional web design company providing affordable business & real estate web design and development services for real estate agent websites and business websites. IMCD Websites are built utilizing the latest Mobile Responsive Web Design technology while also being SEO friendly.
IMCD of Colorado, Inc.
Address: 4833 Front Street, Unit B-306
Castle Rock, Colorado 80104
Local Phone: 303-688-1331
Toll Free: 877-999-4623
Fax: 303-688-8842