Search Engines – Optimizing and Marketing to Increase Leads

Is your real estate website working with the search engines to increase your exposure to potential real estate sales leads? Internet marketing using search engines has two components:
Search Engine Optimization that creates the free exposure of your real estate web site (organic search results) and
Search Engine Marketing that utilizes Social Media, and the ability to pay for Internet advertising.
The improvement of your website's ranking "organically" on search engines is achieved through Search Engine Optimization or SEO. Search Engine Marketing is commonly called pay-per-click advertising (PPC) and is done primarily with the search engines and secondarily with individual websites relevant to your real estate market.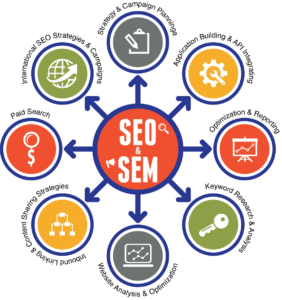 The proof of a good real estate web site design is that your site gets highly ranked by the search engines. The most important search engine is Google. So many web searches are done with that search engine that "googling" has become a new verb! Search engine optimization is making sure that your web site has the inherent features such as title, content, keywords and relevant links to other web sites that search engine algorithms factor. Google offers some SEO tips to real estate web site designers, but third party SEO companies have sprung up to help web designers by trying to ferret out Google's ranking methods.
IMCD Web Design optimizes and submits all their real estate web sites to the major search engines. Then the web site's keywords are monitored for their standing on the search engines. You, the real estate agent, get a report on your website's standings and can track your new sites ascendancy on the search engines.
Pay-per-click or paid inclusion advertising is done most often with search engines such as Google's Adwords or Yahoo's Search Marketing, since they have the greatest visibility. In a nutshell, you target keywords relevant to your market and have your advertisement placed on the search results page using those keywords. How high you are on the list of paid links is determined by how much you are willing to pay for each click. When someone clicks on your ad, they are taken to your real estate web site and the search engine charges you for that lead. Once very popular, pay per click advertising suffers since viewers tend to click on organic search results more than paid links. One study estimated that only 30% click on paid links and another found six times as many searchers clicked on the first three search results versus click on a paid link.
Banner ads are similar to magazine ad placements. Size and placement matter and affect the cost. Many websites have a rotating banner position so your ad may be shown only every third time someone visits the page. Banner ads allow you to add images or Flash to attract attention and drive traffic to your website.
Overall, your search engine exposure begins with your web site. It is critical that your real estate web site design be search engine optimized. Even with pay-per-click advertising, your best opportunity to attract the largest amount of warm sales leads is from your web site ranking high in the organic search engine results.
Click on the button below and let us know you would like to receive the FREE SEO Limited Offer on a NEW IMCD Website.
IMCD of Colorado, Inc., established in 1996 is a professional web design company providing affordable business & real estate web design and development services for real estate agent websites and business websites. IMCD Websites are built utilizing the latest Mobile Responsive Web Design technology while also being SEO friendly.
IMCD of Colorado, Inc.
Address: 4833 Front Street, Unit B-306
Castle Rock, Colorado 80104
Local Phone: 303-688-1331
Toll Free: 877-999-4623
Fax: 303-688-8842