Real Estate Internet Marketing – Contact Your Largest Potential Market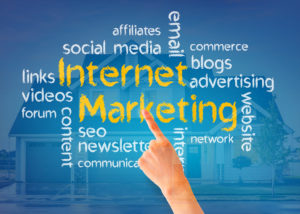 Internet marketing has become one of the best methods for real estate agents to attract solid leads to active real estate buyers and sellers. Internet marketing's benefits, when carried out with a proven real estate agent web design, are:
Cost effective way to broadcast your message 24/7;
Target niche markets and changing buying trends;
Generate warm sales leads by capturing visitors contact information and interests;
Build trust with your potential clients by presenting your qualifications and experience;
Quickly add or change content to address current market conditions; and
Create an easy avenue for potential clients to email you that also blocks spam.
Your real estate website is very cost effective since the monthly fees for hosting, email service and search engine optimization are minimal compared to the income generated by the real estate sales leads harvested from your site. Your real estate Internet marketing message is on the Internet 24 hours a day, 7 days a week. It does not have the traditional marketing limitations of a defined number of radio or TV airings or newspapers' or magazines' short time of circulation.
The building blocks of your Internet marketing strategy are web pages. Each web page has its own unique content, including images, headings and title. Each page can target a different real estate niche market. Add pages to your site to target niche markets such as luxury homes, mountain-view homes, townhomes and condominiums, new built homes, and custom homes. Web pages can be added quickly to address changes in the real estate market trends. "A picture is worth a thousand words" was never more true than in real estate internet marketing. By adding images targeted to your real estate market, you can evoke a level of emotion that moves people to respond and act faster than just with the simple text.
IMCD Web Design' real estate internet marketing sites have great tools for providing you with not only the potential sales lead's contact information, but also their area of interest and their buy or sell timeframe. By having a client sign-in to access your useful information or your property listings, you capture great real estate sales leads. Guestbooks and sign-in pages can also serve as a deterrent to those who are not seriously looking to utilize your services.
Establish your "mindshare" with potential sales leads by reinforcing your personal brand with an "About Us" page. You know how important trust is in buying or selling a home – without it there is no referral market! Your biographical page allows you to present testimonials as well as your qualifications, interests, and experience.
The ease of adding material to your internet site, whether through adding articles, blog entries or new listings, keeps your site up-to-date and relevant to the real estate trends affecting your buying and selling public.
Web sites also offer an additional benefit of creating a way for people to easily email you – the address and subject line are already filled out, all the client does is add their message and click Send! The email reply pages are set up in such a way that they do not cause a ton of spam to suddenly start coming from your website. Every salesman loves a pain free way of generating warm leads, especially when it keeps working even when you are on vacation!
PS. Don't forget to add your website's address to the signature of your emails and on your business cards!
Click on the button below and let us know you would like to receive the FREE SEO Limited Offer on a NEW IMCD Website.
IMCD of Colorado, Inc., established in 1996 is a professional web design company providing affordable business & real estate web design and development services for real estate agent websites and business websites. IMCD Websites are built utilizing the latest Mobile Responsive Web Design technology while also being SEO friendly.
IMCD of Colorado, Inc.
Address: 4833 Front Street, Unit B-306
Castle Rock, Colorado 80104
Local Phone: 303-688-1331
Toll Free: 877-999-4623
Fax: 303-688-8842