Successful Blogging Habits for Real Estate Website Bloggers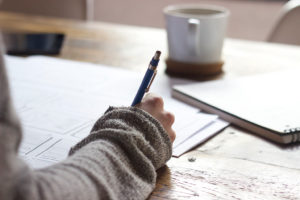 Your real estate blog is one of your most cost-effective small business marketing tools to raise your real estate services' visibility and add to your market. Your web designer can help you add a blog to your real estate website using one of the blog templates on the market. The help of a designer for the set-up phase makes your set-up trouble-free, faster and seamless. Also your designer can add a theme, plug-ins and graphics that will give your site both a professional look and tie it to the look and feel of your real estate website.
IMCD Web Design, a real estate web design company, has found WordPress to be one of the easiest blog programs since it has well defined template and is intuitively easy to add articles and images. "The ease of use of WordPress is very important for real estate agents", reports IMC's John Naschinski. "WordPress Blog software makes it easy for non-technical people to quickly add articles and then go and view it immediately online is important. If creating a real estate blog entry turns into a federal case, agents feel their time is better spent with clients directly and only sporadically or never make entries."
Earlier entries discussed the simple blogging rules of keeping your messages concise and the tone informal and casual. The following "best practices" will also make your blogging efforts easier and with more effective use of time.
Under your theme of real estate, work with your designer to set up the initial categories of your blog. It is better if your categories also are keywords connected with your website, such as: real estate markets and [your town] real estate.
Create a list of subjects relevant to your customers and for each subject list a few of your keywords or key phrases. Then set up a schedule for writing your entries. Match your writing schedule to the natural rhythm of your day. If you have a block of time on certain days, use that to create several entries that you can add to the blog over the next few days. Sometimes it works to use your "decompression time" when you get home to write a few paragraphs. Whatever works best for your schedule, set that up and stick to it. Your blog is better rated by the search engines when they track that you make entries during the week. Don't forget to double check the spelling and grammar. A fast way to check is to use a program like MS Word, then save the file as a .txt file.
Google's default time for checking a site is usually every three weeks. If it finds blog entries appearing on your real estate website made more often than that, it changes its program to crawl the site more often.
If you want the visibility a blog will add to your real estate website, but you do not have the time or writing skill, hiring a writer to fill in your checklist is also an option. This may increase your marketing budget, but as successful real estate agents have found out, getting the business that ranking high on the search engines causes is worth it.
Enjoy your blogging by keeping it fresh, fun and frequent.
Click on the button below and let us know you would like to receive the FREE SEO Limited Offer on a NEW IMCD Website.
IMCD of Colorado, Inc., established in 1996 is a professional web design company providing affordable business & real estate web design and development services for real estate agent websites and business websites. IMCD Websites are built utilizing the latest Mobile Responsive Web Design technology while also being SEO friendly.
IMCD of Colorado, Inc.
Address: 4833 Front Street, Unit B-306
Castle Rock, Colorado 80104
Local Phone: 303-688-1331
Toll Free: 877-999-4623
Fax: 303-688-8842