Real Estate Web Design Principles For High Conversion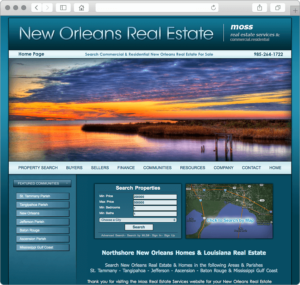 How do you get the sales leads generated by your effective real estate web design to convert to hot leads? IMCD Web Design' clients have enjoyed high conversion rates from their steady online visitors due to solid foundations set in their website designs.
There are two keys to online sales lead conversion: ease-of-use and trustworthiness.
The ease of use factors in the way contact forms appear to visitors. IMC forms use the latest technology to help your visitors fill out the required fields and offer an easy route to quickly adding information keyed to the visitor's needs. Nothing turns potential leads away like forms that deliver angry red messages about missed fields and the visitor is left to their own devices to find the missing information. IMC's forms "politely" warn of missing fields and assist your visitors by highlighting the missing field.
By providing more fields for answers than are required, your sales contact form takes on the aspect of aiding your visitor to more quickly send their information request – and help real estate agents have a better grasp of their potential clients' needs before ever sending the first follow-up email or placing the first phone call.
More than ease-of-use of your real estate contact forms, trustworthiness is the hurdle necessary to overcame for the visitor to five any personal information. Trustworthiness is established in several ways – the high level of educational content contained in the many buyer, seller, mortgage and investor reports and guides as well as the prominent privacy policy. Gaining your clients' trust is something that should be done quickly – third party testimonials are also one of the most effective time-saving self promotions.
To approach improving website visits to sales lead generation ratio, remember to think like your real estate website's visitor: Most are seeking information, are in the early stage of looking and are repulsed by an overbearing sales follow-up. Just like in fly fishing, be prepared for a patient cast and retrieve to increase interest before trying to set the hook.
If your are interested in joining the growing population of real estate agents enjoying a high conversion rate of visitors to home buying and selling sales leads, contact the real estate online marketing specialist at IMC about getting your effective and personal real estate web design. Your public is waiting!
Click on the button below and let us know you would like to receive the FREE SEO Limited Offer on a NEW IMCD Website.
IMCD of Colorado, Inc., established in 1996 is a professional web design company providing affordable business & real estate web design and development services for real estate agent websites and business websites. IMCD Websites are built utilizing the latest Mobile Responsive Web Design technology while also being SEO friendly.
IMCD of Colorado, Inc.
Address: 4833 Front Street, Unit B-306
Castle Rock, Colorado 80104
Local Phone: 303-688-1331
Toll Free: 877-999-4623
Fax: 303-688-8842