Real Estate Web Design For Colorado Springs Market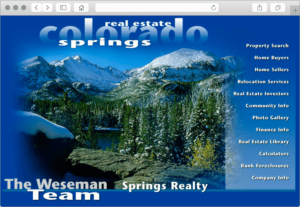 Real estate web design does not have one silver bullet design that works in all markets and all economies. IMCD Web Design factors each customer's overall market, their target market and what the area's real estate buyers and sellers are looking for into the website design. For example, the Colorado Springs real estate market is similar to the overall Colorado market in that it has not experienced the market gyrations that Las Vegas and Phoenix are going through. However, the Colorado Springs market has different market niches to target than the major Denver and Boulder markets.
Colorado Springs has a large military presence that is going to continue to expand in the next 2 years as more base closures around the country send new troops to the area bases. Targeting the military market niche, though not necessarily the luxury home market, has several strong arguments as a market niche worth targeting.
The average military family moves far more frequently than most American families, usually every three to four years. This helps counter-balance Colorado Spring's retiree community who are using the city as their final base of operations.
The military market has a characteristic of loyalty that is ingrained with their professional training and experience. Couple that attribute with the high level of networking and "military family" culture, by providing your professional real estate services to the military, you can create a loyal following and a great "viral marketing" opportunity.
With the military families usually moving to a different state, not just across town, the Internet is used far more in searching area homes for sale and an area's real estate agents.
The ability to locate area's market niches and translate them into a web page or pages in your real estate website design are important to crafting a successful Internet marketing campaign that will return the highest return on advertising investment. If you think your real estate agency's online marketing is not generating sales leads for your area's niche home buyers and sellers, contact the Internet marketing experts at IMCD to see how you can improve your cyberspace presence. All IMCD's real estate website designs, whether custom sites or semi-custom template designs, receive the personalized marketing research to help you assess the best way to present the benefits of your services and generate the most sales leads.
Click on the button below and let us know you would like to receive the FREE SEO Limited Offer on a NEW IMCD Website.
IMCD of Colorado, Inc., established in 1996 is a professional web design company providing affordable business & real estate web design and development services for real estate agent websites and business websites. IMCD Websites are built utilizing the latest Mobile Responsive Web Design technology while also being SEO friendly.
IMCD of Colorado, Inc.
Address: 4833 Front Street, Unit B-306
Castle Rock, Colorado 80104
Local Phone: 303-688-1331
Toll Free: 877-999-4623
Fax: 303-688-8842