Real Estate Technology Advances… No More Overnight Delivery?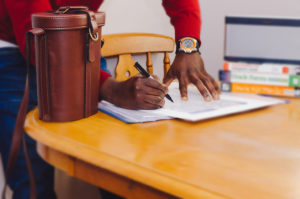 Real estate technology continues to make advances that make a real estate agent's life more efficient and cost of doing business lower. This time with a little help from Congress! Since Congress passed the Electronic Signatures in Global and National Commerce Act (ESIGN) in 2000 to facilitate interstate and international commerce, electronic signatures on real estate contracts carry the full force and effect as actual signatures. One step closer to the "less paper office" and contracts with parties in different states or even different countries can be signed off in hours, instead of the 48 hour overnight courier turn-around time.
Real estate agents have several e-signature technologies to choose from – each has advantages for the different scenarios. One technology favors the face to face interaction whereas other technologies are more fitting for long distance document shuffling transactions.
VREO Real Estate Dashboard and Topaz Systems software applications are loaded onto tablet PCs. When stored documents demand signatures, such as a listing agreement, the parties simply sign on the line on the tablet PC. The image is stored and the signed documents can be printed, faxed or emailed. Topaz also offers hardware attachments that allow real estate agents to use their laptops. Small electronic signature pads simplu plug into to the laptop's serial or USB data port. Both software applications interact with your real estate contracts or documents stored in Microsoft® Word (.doc) and Adobe® Acrobat (.pdf) formats. Adobe also has a Self-Sign plug-in to Adobe Acrobat for adding digital signatures.
ZipForm's Esign software allows real estate documents to be electronically signed by one party and then printed to a digital envelope. The Esign software then encrypts the file and sends to an Internet lock box, where multiple parties can then access the file and add their electronic signature. Recipients can access the file, authenticate their identity and sign the document with just their web browser. Once the document is signed off, copies can be sent to accounting, customer service or anyone who needs to be aware of or follow up on the signed contract. ZipForm also offers real estate forms and contracts packages that utilize the Esign technology.
All the electronic software applications come with the technology to detect any changes in the real estate documents. Any changes, of course, cause the software to mark the signatures as invalid.
With the ability to quickly append and gather electronic signatures, the need to expend funds on (and wait for) overnight delivery services to gather signatures could be a decreasing. With a technology upgrade to your business laptop, you can take a giant stride to cutting the time and paperwork it takes to seal the deal!
Click on the button below and let us know you would like to receive the FREE SEO Limited Offer on a NEW IMCD Website.
IMCD of Colorado, Inc., established in 1996 is a professional web design company providing affordable business & real estate web design and development services for real estate agent websites and business websites. IMCD Websites are built utilizing the latest Mobile Responsive Web Design technology while also being SEO friendly.
IMCD of Colorado, Inc.
Address: 4833 Front Street, Unit B-306
Castle Rock, Colorado 80104
Local Phone: 303-688-1331
Toll Free: 877-999-4623
Fax: 303-688-8842