"Permission Marketing" Author Gives Pointers for Your Real Estate Blog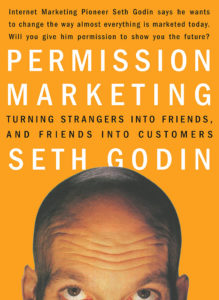 "Permission Marketing" author Seth Godin gave several great tips for your real estate blog in a recent interview with Wordtracker.com's Academy, a leading keyword analysis company. Tips from a successful writer who understands marketing and creating loyal customers as well as writing are always helpful.
Story telling is most effective when told right. "The story has to begin with something compelling enough that you want to learn more about the story. The mistake marketers make is that they tell all the story at once, take it or leave it. People need to realize they have to ensure an unfolding dialogue." Your stories can be like the jokes in a Crosby-Hope Road Show, a theme that keeps popping up and changing to add liveliness to the scene. Your client' testimonials can be a great source of anecdotes that add to your unfolding story.
Create your own feedback loops to spur improvement or cover popular themes. When Seth was asked if he felt under pressure to always be coming up with new ideas, he responded "I do it because I want to do it. Every time I am interacting with the outside world I'm thinking about why that interaction happened, whether it was a good one or a bad one." If your entry is a "good one", the result may be your client receives information helping them with the selling or buying process or impels them to respond to your call to action. Listen to your clients when they give feedback on your real estate website.
Sit down and write, don't let the perfect kill the good. "I am not a perfectionist. I think that I am very focused on doing the best I can quickly and fixing it to make it better. A perfectionist doesn't do things quickly, it takes them too long to shift." A short entry with good information that carries your personal enthusiasm is much better than sporadic short pieces that have been crafted with the word crafting ability of Edgar Allen Poe. Plus, by the time you get that blog entry perfect, the real estate market may have shifted!
Content is king. Asked about search engine optimization (SEO), Seth pointed out there are no short cuts. "The best SEO is great content. Don't do that and you don't get much." The reason real a estate blog helps with your search engine ranking is that it is a great opportunity for adding useful keyword-rich information to your website.
Wordtracker offers a free keyword search trial at http://freekeywords.wordtracker.com/. You can type in the keywords you are planning to use in your real estate blog entry and see what variation is the most used one on the search engines. Then you can modify your blog entry to use that keyword variation.
Click on the button below and let us know you would like to receive the FREE SEO Limited Offer on a NEW IMCD Website.
IMCD of Colorado, Inc., established in 1996 is a professional web design company providing affordable business & real estate web design and development services for real estate agent websites and business websites. IMCD Websites are built utilizing the latest Mobile Responsive Web Design technology while also being SEO friendly.
IMCD of Colorado, Inc.
Address: 4833 Front Street, Unit B-306
Castle Rock, Colorado 80104
Local Phone: 303-688-1331
Toll Free: 877-999-4623
Fax: 303-688-8842