Original Content for Your Real Estate Website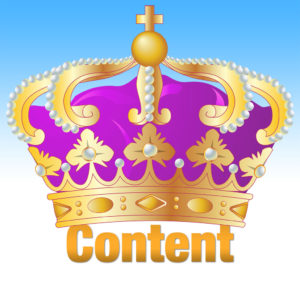 Original Content for Your Real Estate Website: What makes some real estate web sites better than other real estate web sites? A real estate web site should provide something of value like up to date information and/or advice, and visitors will return to your site over and over.
Good content is one of the the most important aspects of a great web site.
Web sites should:
Offer valuable content in as many forms as possible.
Original content is one of the most important features of a real estate web site. Sites that only offer links to other sites are essentially bill boards to other sites, while sites that provide useful information are destinations and will be revisited. Content is King.
Offer, current information to the visitor.
Web sites should be updated regularly. Static web sites are less likely to receive return visitors whereas sites that are update regularly invite visitors to return frequently.
Online publishing systems are much easier to update and can provide and enormous amount of content for the visitor as well as more pages for the search engines to index. More quality content can translate to more visitor and higher sales.
Make your site interactive; interactivity engages the visitor and makes your site stand out.
Second to original content, the most important aspect of a web site is interactivity. The Internet is an interactive medium that a web site should reflect. Sites that engage the visitor and offer a sense of fun or adventure will get more traffic.
Organized Design
Pages that offer important content toward the top of the page is a good idea. This does not mean that you should take this an extreme and stuff everything into the top so that it is difficult to read. Where possible, size your pages important content to fit into the typical user's screen (800 pixels wide by 600 pixels high for a 15″ monitor or 1024 x 768 for larger monitors). A well-organized site typically provides multiple ways of navigating. Offer your visitor both text and graphics for navigation. Visitors will also be more comfortable if you design a consistent look and feel throughout your site.
Don't move high ranking pages in your site, you'll break the search engine's links to your pages. If you must change a page's url make sure you provide a forwarding page to the new location.
How Do I Keep Visitors returning?
A common idea some agents have that are new to the web is that if they put up a site, people will visit it. In order to have a highly trafficked site, you must provide useful information, interactivity and keep the content fresh.
Yes Content is King, but there is also promotion… please contact us to find out IMCD can build you a fresh site that gets results.
Click on the button below and let us know you would like to receive the FREE SEO Limited Offer on a NEW IMCD Website.
IMCD of Colorado, Inc., established in 1996 is a professional web design company providing affordable business & real estate web design and development services for real estate agent websites and business websites. IMCD Websites are built utilizing the latest Mobile Responsive Web Design technology while also being SEO friendly.
IMCD of Colorado, Inc.
Address: 4833 Front Street, Unit B-306
Castle Rock, Colorado 80104
Local Phone: 303-688-1331
Toll Free: 877-999-4623
Fax: 303-688-8842