New Digital Camera Helps Real Estate Agents Update Website Photos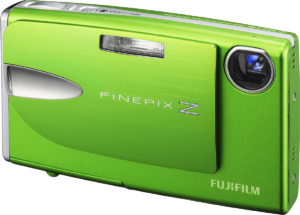 Fujifilm FinePix Z20fd digital camera has technological improvements that benefit real estate agents with websites in several useful ways.
Where the FinePix Z20fd really stands out is its Dual Blog mode for your real estate website that automatically re-sizes any still image or movie so you can easily post the images or movie to your real estate blog. The compact blog-ready image is also small enough to be sent by email to your home buying clients or property investors.
Real estate agents have to work with a wide range of lighting conditions form interior and exterior property shots to the need for high resolution balanced with uploading acceptable image sizes. The Z29fd has the features that benefit agents in these conditions.
As with many digital cameras, it is small enough for Realtors to slip in their pocket. It has the traditional memory card storage plus an additional 45 meg in-camera storage for times when the memory card is full. Its 3X optical zoom takes in most applications, however, jumping up to the pricier Z100fd allows an increase to 5X optical zoom.
For an extra edge in making your property photos as professional looking as possible by reducing image blur, the camera uses Fujifilm's Picture Stabilization technology – faster shutter speeds and higher sensitivity. This technology also makes it easier to shoot acceptable low light indoor photos of room interiors. Helping with handling various lighting conditions, FinePix Z20fd has 14 different scene positions for automatically adjusting from bright sun to low light night scenes.
For building a virtual home tour video, the FinePix Z20fd has a Successive Movie mode that allows Realtors to use in-camera software to stitch different videos together into 60 second sections. The 2.5″ LCD view finder helps viewing pictures, especially in cases where the photographers where glasses.
Ease of use also figures in its ability to transfer images wirelessly to any IrSimple(TM) enabled cell phones, projectors, laptops and photo kiosks.
With all the different leverage points real estate websites offer with blogs, vlogs, featured listings with room for plenty of property images, and the growing popularity of virtual tours for moving homes for sale quicker, digital cameras are a must. The well-priced Fujifilm FinePix Z20fd digital camera could well become one of your potent Internet marketing tools.
Click on the button below and let us know you would like to receive the FREE SEO Limited Offer on a NEW IMCD Website.
IMCD of Colorado, Inc., established in 1996 is a professional web design company providing affordable business & real estate web design and development services for real estate agent websites and business websites. IMCD Websites are built utilizing the latest Mobile Responsive Web Design technology while also being SEO friendly.
IMCD of Colorado, Inc.
Address: 4833 Front Street, Unit B-306
Castle Rock, Colorado 80104
Local Phone: 303-688-1331
Toll Free: 877-999-4623
Fax: 303-688-8842