Improve Your Real Estate Website Marketing with Email Responses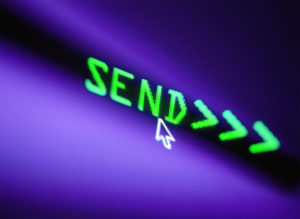 Looking to improve your real estate website marketing? You may want to take a look at email. Since email is based on the tradition of writing letters, the foundation of emails is text. However, because of the capacity of email programs to fulfill real estate web design tasks, email can be sent as an HTML document – a page that looks like a web page.
With HTML's ability to bold, underline and italicize words and change font sizes and colors, your text has greater impact. Studies by marketing firms have found that the more colorful approach almost doubles the number of responses a sales email receives.
Direct marketing companies have long adopted HTML emails, while individuals and small businesses were slower to adopt the technology. Original hurdles were small bandwidth, email services that were not set up for HTML and spam blockers that zealously blocked all HTML mail. With the evolution of a more graphic centric Internet and cheaper high-speed Internet connections, HTML email has become mainstream and used by many non-spam, legitimate retail stores.
Real estate agents do not need website creating software, such as Dreamweaver, to create their sales letters. Most email software can be quickly configured to send emails as HTML. Once configured, a familiar formatting tool bar remains visible so changing colors, font sizes, fonts and alignment are similar to working in your favorite word processor.
Venture beyond the bland and brighten your email and your real estate sales prospects by sending HTML emails. Adding pictures and links to your real estate website's virtual home tours only increases the potential exposure of your Internet marketing campaign.
For a sales generating place to send you email list clients, contact IMCD Web Design for an affordable real estate web design with a track record for turning web visitors into active real estate clients. IMC real estate agent-friendly websites excel in their ease of use for adding images of properties for sale and managing content in blogs and article managers so your website is always current and interesting.
Click on the button below and let us know you would like to receive the FREE SEO Limited Offer on a NEW IMCD Website.
IMCD of Colorado, Inc., established in 1996 is a professional web design company providing affordable business & real estate web design and development services for real estate agent websites and business websites. IMCD Websites are built utilizing the latest Mobile Responsive Web Design technology while also being SEO friendly.
IMCD of Colorado, Inc.
Address: 4833 Front Street, Unit B-306
Castle Rock, Colorado 80104
Local Phone: 303-688-1331
Toll Free: 877-999-4623
Fax: 303-688-8842