New Cell Phones – Your Portable Listings File and Slideshow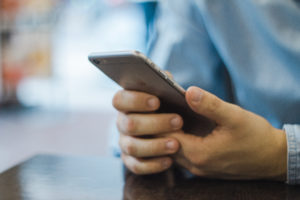 With the iPhone, Android, and Windows new cell phone technology, real estate agents now have a great tool for virtually showing properties anywhere they meet a client.
Many cell phones have picture-taking capacity, but the iPhone, Blackberry and Nokia's new phones allow real estate agents to create libraries of photos to show off properties in their listings. These are not grainy photos, but, in a benefit for real estate technology, very clear photos that easily convey the features of homes for sale in the best light.
You can quickly scroll through your entire collection or homes for sale images. With your phone images, you have the choices of e-mailing pictures to clients (yes the phones can go on the Internet) or adding them to your contacts. With iPhone, if you rotate the phone sideways, the image automatically changes to landscape mode, which comes in handy for outside pictures of homes. By using your fingers on the screen to pinch in, an image zooms in or zooms out. Nice for checking details when you are dealing with an approximately 3″ viewing screen.
Recently, one iPhone owner showed off a property, inside room photos and outside photos of house, garden and pool area. All the pictures were clear and left no doubt as to the quality of the property. All the photos were also taken by the iPhone!
All the cell phones have 2 mega pixel cameras as standard. That allows real estate agents to take very crisp pictures both for the cell phones' screens and later when placed on the computer. This means that in the field of real estate technology, these "business ready" cell phones roll a real estate agent's camera and computer (for emails, Internet connection and slide show presentations) into a very small package.
The Blackberry still dominates the corporate market, but with higher user satisfaction ratings, iPhone is making inroads into the commercial market. The mobile office keeps getting more mobile, smaller and able to handle several tasks. Now if our cell phones would just connect to a printer.
Click on the button below and let us know you would like to receive the FREE SEO Limited Offer on a NEW IMCD Website.
IMCD of Colorado, Inc., established in 1996 is a professional web design company providing affordable business & real estate web design and development services for real estate agent websites and business websites. IMCD Websites are built utilizing the latest Mobile Responsive Web Design technology while also being SEO friendly.
IMCD of Colorado, Inc.
Address: 4833 Front Street, Unit B-306
Castle Rock, Colorado 80104
Local Phone: 303-688-1331
Toll Free: 877-999-4623
Fax: 303-688-8842