My Smart Real Estate Home Office is My Car – MLS, Internet & GPS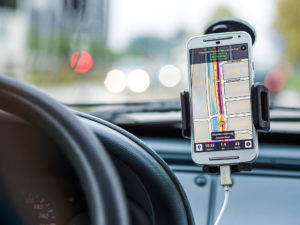 How much of your real estate office is really your automobile? Between house showings, meeting clients and checking potential properties, real estate technology has benefited from the trend to mobility. According to the National Association of Realtors, "The most popular devices Realtors® use in their day-to-day business include digital cameras, desktop computers and cell phones. The survey also revealed the growing popularity of smart phones or PDAs, which provide phone, Internet (website & MLS access) and e-mail capabilities."
Cell phones (especially smart phones) are the obvious first candidate for an office mobility award. Firmly established for its ability to be on the phone with people anywhere and be your portable answering machine, the phone is now taking on aspects of a mini computer. The Internet is invading the cell phone home turf with tools for real estate agents like website, MLS access and Google Mobile's "My Location" which mimics a GPS device. GPS devices use satellite signals to triangulate your position on the globe. The My Location technology can show you a map of where you are on your web-enabled cell phone using the geographical positions of nearby cell towers. To download this technology, browse to www.google.com/gmm or text "bluedot" to the number 33669 and download the application. This technology is now included with Apple's iPhone (as of firmware update 1.1.3).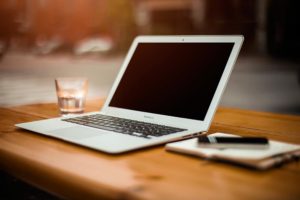 With laptops offering the same computing power as desktop models, The NAR found that since 2004 more Realtors® are buying laptops instead of home desktop computers. Real estate agents in the market for laptops now have an economical way to both go mobile and present their real estate websites to prospective clients. Refurbished IBM Thinkpad laptops are a great investment! Long the standard in complaint-free, easy to use laptops, Thinkpads are now available for under $500 with 15″ screens (very readable), wireless (make better use of your coffee shop), and with one of the best keyboards around. The fact that it's encumbered with a status symbol aura can't hurt your image either! Of course, since it is portable, you can also opt for lighter laptops with 12″ or 13″ screens.
Another great portability breakthrough is the flash drive technology. These portable memory sticks act like mini hard drives that plug into your computer's USB port. Once plugged in, they are ready to save any of your files. A flash drive's memory capacity is tremendous. You can save folders full of real estate pictures, letter templates, and PowerPoint presentations. Any files you work with at home and work can be carried in your pocket. One gig to 8 gig capacities are basic sizes. The consumer wins in this technology market, since flash drive manufacturers abound. Look around on the internet and find the deals. Name brand providers such as Kingston regularly have 50% off sales on their drives.
The only office item still missing from your car is a portable printer. Printer technology has advanced with quite an array of portable machines. Some, like HP's PhotoSmart printers only print 4 X 6 color photos, while the inkjet work horses, such as HP's 460CB or Canon's Pixma iP90 kick out high quality color images and print on standard 8.5 x 11 paper.
Phones that can be used to get maps, send emails and visit websites; computers that can present property folios and personal PowerPoint presentations; and websites that automatically maintain your new relationships – now you can be in more than one place at once. Well, virtually. Now, if you only had a chauffeur, think of all the work you could get done.
Click on the button below and let us know you would like to receive the FREE SEO Limited Offer on a NEW IMCD Website.
IMCD of Colorado, Inc., established in 1996 is a professional web design company providing affordable business & real estate web design and development services for real estate agent websites and business websites. IMCD Websites are built utilizing the latest Mobile Responsive Web Design technology while also being SEO friendly.
IMCD of Colorado, Inc.
Address: 4833 Front Street, Unit B-306
Castle Rock, Colorado 80104
Local Phone: 303-688-1331
Toll Free: 877-999-4623
Fax: 303-688-8842