California Real Estate Websites Critical To Sales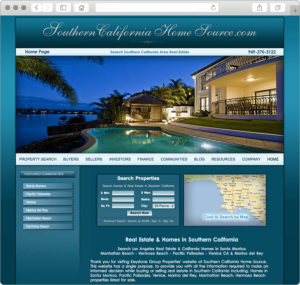 California has seen an increase in Realtors' dependence on their California real estate websites to keep them active in a state whose real estate market is continuing to feel the full weight of the market turnaround,. In September, major cities in California experienced further price declines, even as the nation experienced higher sales.
How intense is the California market? At one extreme, one Realtor® admitted that if it wasn't for their ability to sell foreclosure properties, they would be looking for a new line of business. On the other hand, many Realtors are turning to the Internet to preserve and expand their real estate companies.
According to the third quarter report of the California Association of Realtors® (CAR), the top business uses Realtors find for the Internet is to access the MLS and check online listings (9 out of 10 Realtors) and accessing their real estate broker website. Almost every real estate agent sent email, although 7% still are relying primarily on the phone to communicate with their clients.
As technology advances, the cutting edge real estate agents move with it. Over twenty percent were using wireless mobile devices like Blackberrys in order to respond to their clients as quickly as possible. Thirty-two percent of the responding Realtors answered their emails either right when they received them, and most answered within an hour. Still most real estate agents found that keeping up with their emails to be the biggest challenge they face.
A benefit to California real estate agents using one of IMCD Web Design real estate web designs is that as soon as a potential client signs in to their website, an email is sent to them with the contacts information. Interestingly, only 42% of real estate agents responding to CAR's survey use guest books or contact pages to collect visitor information.
Recognizing that California home buyers and sellers are following the national trend using the Internet to initiate their homes or Realtor® searches, real estate agents use their own personal websites to provide an IDX feed to present home listings, virtual home tours and as a ready contact point. Interestingly, only 7% are using blogs or online real estate forums to boost their visibility.
CAR President William E. Brown reported "Realtors® are doing more [business] than ever on the Internet…As a result, they are generating more business from the Internet than ever before." Real estate agents and brokers throughout California are shifting to meet the market where ever it moves. As prices bottom out, many areas are experiencing investors moving back into the market to capture property deals.
If you need to improve your Internet marketing position in the California real estate market, contact IMCD about a high impact, high conversion real estate web design that can capture sales leads for your real estate company from the growing investor market as well as the traditional home buyer and home seller markets.
Click on the button below and let us know you would like to receive the FREE SEO Limited Offer on a NEW IMCD Website.
IMCD of Colorado, Inc., established in 1996 is a professional web design company providing affordable business & real estate web design and development services for real estate agent websites and business websites. IMCD Websites are built utilizing the latest Mobile Responsive Web Design technology while also being SEO friendly.
IMCD of Colorado, Inc.
Address: 4833 Front Street, Unit B-306
Castle Rock, Colorado 80104
Local Phone: 303-688-1331
Toll Free: 877-999-4623
Fax: 303-688-8842