Arizona Real Estate Websites & Lead Generation for Niche Markets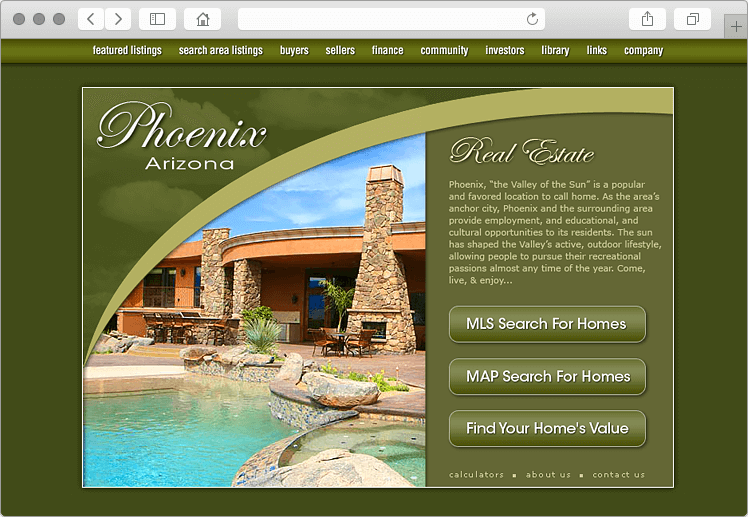 Arizona real estate web site designs find great lead generation success by targeting the niche markets of the state's popular desert oases. From the new housing developments in Gilbert, the master planned communities of Sun Valley, the fine luxury homes of Phoenix and Scottsdale to the panoramic vista homes in Paradise Valley, Arizona real estate offers as many marketing opportunities as their are property niches.
Finding a real estate web site design that effectively ranks on the search engines for that keyword and market niche and also has the marketing to appeal to that niche's home buyers, sellers, and investors. is of paramount importance. Arizona real estate web sites can create multiple sales funnels on one site by utilizing online marketing tools. Each market's information page serves as a starting point in the sales lead generation process, with data targeted for specific buyers or sellers.
With a custom real estate web site, Realtors and brokers can fine-tune their Flash animation or Flash slide shows to present both the areas standout features as well as the homes typical of that market. Luxury home websites have a different color scheme, graphic design and layout than the more prevalent single family residences. Each web design caters to the taste of that particular market.
For real estate investors, a site that is laden with information on the area's property appreciation or depreciation trends, average rents, and occupancy rates is more important than information on the area's schools. By compartmentalizing the marketing pitch different pages have, Realtors can efficiently use their website's guest books to appeal to and qualify the markets that utilize those pages. Each niche market gets pitched the benefits that particular market receives.
IMCD Web Design has created several custom and semi-custom Arizona real estate web site designs that Realtors have continued to add value to with their content management systems. Besides marketing web tools, real estate blogs and article managers added to these websites utilize different categories to segregate their news and market information into the various market interests.
Call upon IMC's real estate web site design services to help your real estate company meet its online marketing objectives capturing leads from all your Arizona niche markets.
Click on the button below and let us know you would like to receive the FREE SEO Limited Offer on a NEW IMCD Website.
IMCD of Colorado, Inc., established in 1996 is a professional web design company providing affordable business & real estate web design and development services for real estate agent websites and business websites. IMCD Websites are built utilizing the latest Mobile Responsive Web Design technology while also being SEO friendly.
IMCD of Colorado, Inc.
Address: 4833 Front Street, Unit B-306
Castle Rock, Colorado 80104
Local Phone: 303-688-1331
Toll Free: 877-999-4623
Fax: 303-688-8842