Tips on Marketing Yourself Through Your Real Estate Website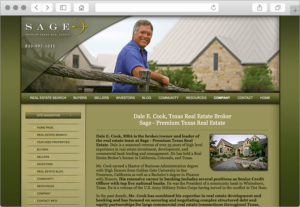 Are you positioning yourself correctly in the real estate market with your real estate agent bio? Unfortunately, this key real estate website marketing tool is sadly underused by most Realtors. The most common mistake is to write your autobiography from the way you think about yourself or how you have worked to position yourself. Unfortunately, people read your bio to see how you can be of benefit in their home buying or selling decisions. Sometimes a minor edit to change the perspective helps improve your positioning. How best to present yourself?
Understand the mind of your real estate website visitor. They have two warring factions judging everything. First they want security, which comes from doing something they have done before and are comfortable doing. Second, they want a sense of satisfaction, which comes from trying something new or attaining a goal beyond their current capacity. One has safety, one has risk. Position yourself to cover both areas.
How to create security? Answer the question "Can I trust this real estate agent?" Convey your trustworthiness in three ways:
Testimonials are the best way. Testimonials on your home page, About Us page, and where ever you can place them without it looking awkward.
Real Estate or Sales Awards are second best. Awards are good since they are conveyed on you by a third party who (theoretically) is an expert who knows.
Certifications or Training certificates are third best. These show you are always training yourself, but their not as good as testimonials or awards since they don't necessarily convey how much you retained from the course.
Risk comes with any real estate venture. "Will I get a fair price for my home?" "Will my new neighborhood have Saturday night drag races?" Two ways to handle risk are, first an foremost, help define it and bring it out in the open. Then show how you are positioned to mitigate the risk and help your client. The second way is to educate your client with your website information and in conversations. Buyer's guides, seller's checklists, school website links and building inspector web links all help. Everyone is more comfortable taking risks when they can see and understand the forces at play.
If you have the space, tell a story of one of your sales – make it interesting, humorous and educating at once. Basic as it sounds, make it superlative: my most embarrassing homes sale, my fastest closing, my most memorable client, or even something one of your parents said that has guided your career. The message behind the story is that you are a real estate agent that is honest, fun to work with, and with nothing to hide.
Always end your real estate agent bio with a specific call to action. The most common ending is "Call me" or slightly better "Call me today". Examining this call to action you can see how it benefits the real estate agent most. Get specific to the client's need. Tell your visitor what benefit they will receive from calling you. "Call me today and I will give you a free property valuation, leads to the best mortgage lenders in town and 2 free movie tickets within 24 hours of your call." This tag actually covers two marketing tactics: a specific call to action and free gifts. The gift could also be an emailed link to download your latest neighborhood real estate report "worth $29.95" for free. Or if your niche is luxury homes, value the report at $199.95.
If you don't establish the value and benefits of working with you, the world certainly won't. Be like the Apollo astronauts, don't depend on the wind to unfurl your flag, engineer it to stand out!
Click on the button below and let us know you would like to receive the FREE SEO Limited Offer on a NEW IMCD Website.
IMCD of Colorado, Inc., established in 1996 is a professional web design company providing affordable business & real estate web design and development services for real estate agent websites and business websites. IMCD Websites are built utilizing the latest Mobile Responsive Web Design technology while also being SEO friendly.
IMCD of Colorado, Inc.
Address: 4833 Front Street, Unit B-306
Castle Rock, Colorado 80104
Local Phone: 303-688-1331
Toll Free: 877-999-4623
Fax: 303-688-8842