New Real Estate Web Design Gets More Traffic Than Previous Website in 8+ Years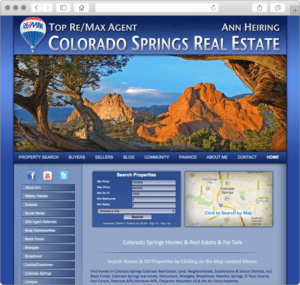 Programmed to assist the real estate website placement across the search engines, the IMCD custom website design for a top Realtor incorporates outstanding professional web design with customer-friendly real estate shopping features. RE/MAX voted this client #1 agent in the office.
A successfully managed SEO web site design such as hers can migrate to the top of the search engines without necessitating the costs associated with pay-per-click marketing. Utilizing an existing website domain name, the client added the Article Manager Tool, our Blog, Broker IDX and mapping, plus Social Media buttons. Each of these features over time enhances the organic search capability of the real estate website design.
Here is what she had to say just days after the launch of her new website. "I want you to know that I'm thoroughly delighted with my new IMCD website and with the increased traffic it is already generating after going 'live' just over a month ago!
"I have realtors from around the country calling me weekly with both Buyer and Seller referrals – I have Buyers contract me via my website in numbers on an almost daily basis – a level of web traffic and business that I have not ever seen in the 8+ years I have had my previous site – a testimonial to the design and look and feel of your product."
"I have just hired a Transaction Coordinator in order to free up time for me to pursue all these new business contacts and see myself having to hire an assistant or perhaps even a Buyer Agent fairly soon so that I may keep up and take full advantage of the business generated by your website!"
This client pays attention to her website, regularly adding listings and articles about relevant topics and You Tube property videos. She incorporates a variety of popular keywords and links to pages within her own website.
In a recent email, she continues, "Your site is working well – I'm swamped with inquiries – working on 7 transactions at the moment all by my lonesome and referrals/leads seem to be increasing in numbers from all over the country."
Click on the button below and let us know you would like to receive the FREE SEO Limited Offer on a NEW IMCD Website.
IMCD of Colorado, Inc., established in 1996 is a professional web design company providing affordable business & real estate web design and development services for real estate agent websites and business websites. IMCD Websites are built utilizing the latest Mobile Responsive Web Design technology while also being SEO friendly.
IMCD of Colorado, Inc.
Address: 4833 Front Street, Unit B-306
Castle Rock, Colorado 80104
Local Phone: 303-688-1331
Toll Free: 877-999-4623
Fax: 303-688-8842