Luxury Homes Immune to Housing Market Contraction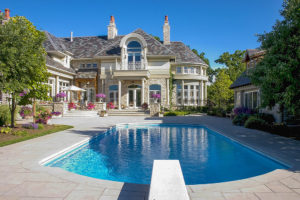 The luxury residential real estate prices continue to rise, contrary to the general market contraction. According to the recent report on luxury and high-end homes from Christie's Great Estates, luxury homes selling around the country at record setting prices.
In the Colorado real estate market, luxury real estate in mountain communities such as Bachelor Gulch, Beaver Creek, and Vail have seen homes for sale keep pace with national luxury home price trend and sell for record amounts. In Telluride Mountain Village, 2007 prices were over 10% higher than the 2006 prices. Boulder County has also seen real estate values increase on the high-end properties.
The Florida real estate market's Gulf Coast and Atlantic Coast have seen increases in both demand and prices for high-end homes. Hawaii, which overall saw a 10% decline in home sales in 2007, enjoyed a 14% increase in sales of high-end properties in the same period. On the East Coast, Europeans, Mid-easterners and a growing number of South Americans form the majority of the foreign buyers. In the West Coast and Hawaii markets, Australia and the Asian Pacific countries dominate. With expected changes easing the ability to obtain visas, China and South Korea are poised to become a larger part of the market. Both markets enjoy a resurgence of Canadian buyers now that the Canadian dollar is on par with the American dollar.
In the competitive world of Internet real estate marketing, blogs, neighborhood news tools and email "new property" notifications are standard. In order to stand out, websites are putting more emphasis on editorial content. To take advantage of the international interest in American luxury properties, real estate websites have adapted by adding more information on their niche market through very informative area luxury lifestyle guides and currency converters.
The market appeal to the luxury home buyer is not based so much on school locations, value and price, as on the lifestyle the home affords. Price is part of the picture, of course, but with 28% of foreign buyers purchasing their luxury property for cash (20% more than US buyers), price is not a hurdle. Real estate websites that add content on an area's high-end life style amenities help create the market through their attractive and educational presentation.
Successful real estate agents in the luxury market know the power of Internet marketing as a foundation to their traditional marketing methods of colorful flyers and networking with associates. Starting with their own real estate website, designed to appeal to high-end buyers, they also utilize high visibility websites such as the Wall Street Journal's website and the NAR's website to steer traffic to their website. With many luxury home buyers leading "movable feast" lifestyles, the Internet is one stable real estate information source for the luxury market, where ever it may be.
Click on the button below and let us know you would like to receive the FREE SEO Limited Offer on a NEW IMCD Website.
IMCD of Colorado, Inc., established in 1996 is a professional web design company providing affordable business & real estate web design and development services for real estate agent websites and business websites. IMCD Websites are built utilizing the latest Mobile Responsive Web Design technology while also being SEO friendly.
IMCD of Colorado, Inc.
Address: 4833 Front Street, Unit B-306
Castle Rock, Colorado 80104
Local Phone: 303-688-1331
Toll Free: 877-999-4623
Fax: 303-688-8842