Effective Uses of Email for Realtors and Businesses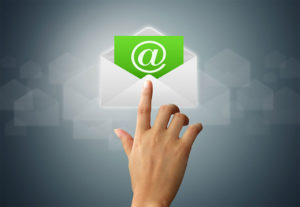 Effective Uses of Email for Realtors and Businesses: Editor's Note: even though this article is targeted towards Realtors, the same general concepts can be adapted to almost any business.
Communicate easily with buyers and sellers. If you have buyers still looking for the right home, you can email them new listings without concern about time of day or whether they are at work or home. You send the email off and they pick it up at their convenience. You can even attach photos of properties.
Email is a great way to let sellers know about market activity, recent sales, and showings that may have taken place when they were not home. Sending sellers email updates once a week is a good way to keep them involved and informed.
Keep on top of service providers like title companies, lenders, and appraisers. Email reminders help speed up delivery of services. The ability to order and receive a pest control inspection via email can cut what is often a ten-day wait down to a day or two. And when that report arrives, forwarding a copy of it to buyer and seller can be just a mouse click away.
Send lenders and title companies needed documentation. Reducing some of that from paper to digital form is all well and good, but if you can't deliver the digital documents, you're back to square one. You can send an entire file via email.
Email has become a powerful new tool for real estate agents. Those who use it and use it wisely will find that it extends their reach, allows them to leverage existing office resources beyond anything they imagined possible, and adds a dynamic dimension to their work that can only be fully understood over time.
Having email also allows you access to the growing number of professional Internet mailing lists (Liszt is a great place to search for e-mail discussion groups). A mailing list allows a group of people with common interests to exchange messages on that topic. When you send mail to the list, everyone who is subscribed to the list sees your mail.
You can also attach to your email full documents or digitized photos of your latest listings. Email is about communication that is fast, efficient, and ridiculously inexpensive.
Email has become the most essential tool for agents in their electronic toolbox, and the tool they use most often.
There are many faces and uses for email. The ability to use email for daily correspondence and as a point of initial contact with prospects is essential.
Click on the button below and let us know you would like to receive the FREE SEO Limited Offer on a NEW IMCD Website.
IMCD of Colorado, Inc., established in 1996 is a professional web design company providing affordable business & real estate web design and development services for real estate agent websites and business websites. IMCD Websites are built utilizing the latest Mobile Responsive Web Design technology while also being SEO friendly.
IMCD of Colorado, Inc.
Address: 4833 Front Street, Unit B-306
Castle Rock, Colorado 80104
Local Phone: 303-688-1331
Toll Free: 877-999-4623
Fax: 303-688-8842