Laser Cosmetic Surgery Medical Center Website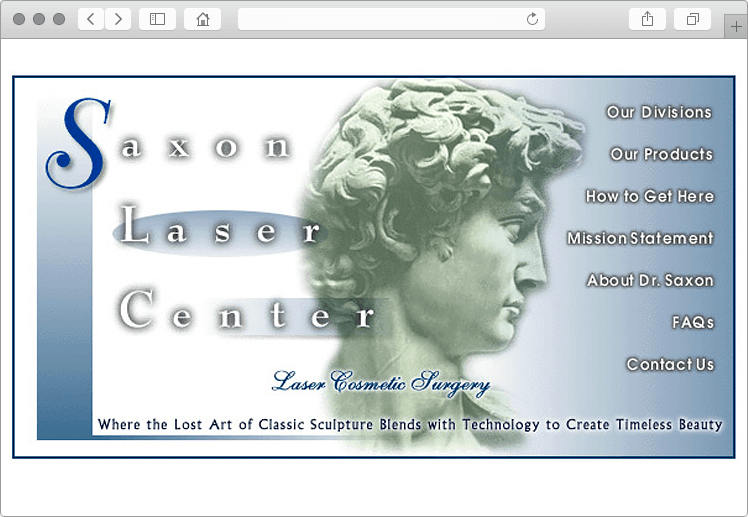 Project Description
This is a Custom Laser Cosmetic Surgery Medical Center Website design. This custom website was built in 1998 for Saxon Laser Center and the success of this website helped the Doctor/Owner expand his business dramatically and ultimately sell it to a very large national franchised business that specialized in Laser Cosmetic Surgery. This doctor was a pioneer in his field and taught his laser cosmetic surgery techniques internationally to oterh doctors. This website promoted the various forms of laser cosmetic surgery as well as help with sleep apnea, tattoo removal and more. This custom website showcased before and after studies as well as products and informative FAQs. IMCD created a custom animation of the logo for use on the website. A product order form was also included on the website for clients and visitors be able to order order skin care products.
Project Details
Client Saxon Laser Center
Date Launched in 1997
Skills Branding, SEO, Animation, E-Commerce, Graphics, Custom Web Design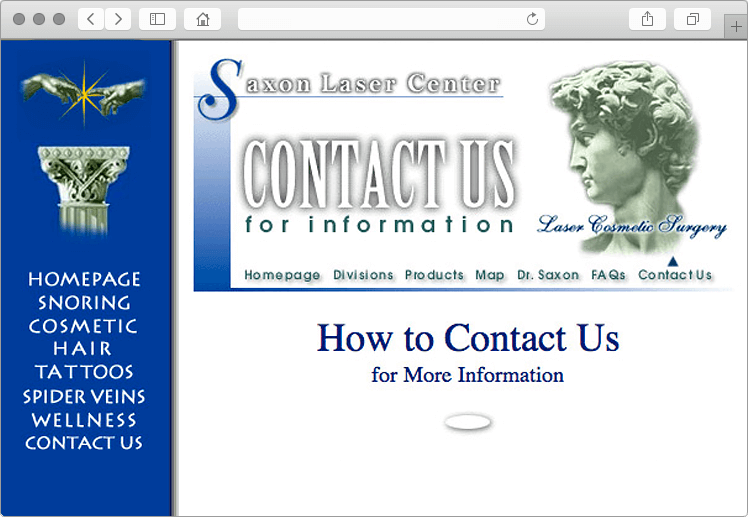 Custom Website for Medical Doctor
This custom website was built for a medical Doctor who's laser center specialized in laser cosmetic surgery.
Look No Further – Get Started Today
IMCD of Colorado, Inc., established in 1996 is a professional web design company providing affordable business & real estate web design and development services for real estate agent websites and business websites. IMCD Websites are built utilizing the latest Mobile Responsive Web Design technology while also being SEO friendly.
IMCD of Colorado, Inc.
Address: 4833 Front Street, Unit B-306
Castle Rock, Colorado 80104
Local Phone: 303-688-1331
Toll Free: 877-999-4623
Fax: 303-688-8842